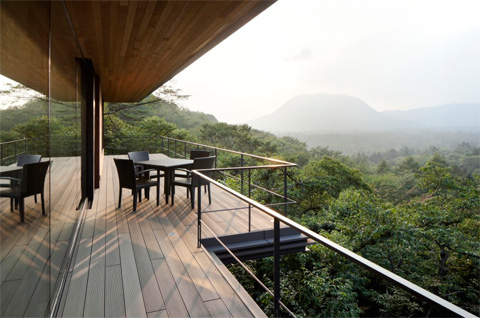 Sometimes architecture seems to work as a photographic camera… The exposure to natural light as well as the focus on a certain landscape or a specific point of view is constantly present in the process of making architecture.
House in Asamayama, Japan stands deeply bounded with this type of conceptual approach. This peculiar building (with 225 sq.m. of project area) is positioned near the mountain road access and projects its body into the vast tree forest that fills the entire slope of the hill.
Three reinforced concrete planes sustain the balanced body of the residence where a steel structure encloses the single floor space. The distribution of the program is determined by its relation to the surrounding mountains: an entrance terrace connected to the road works as a parking area while a covered space marks the front door access.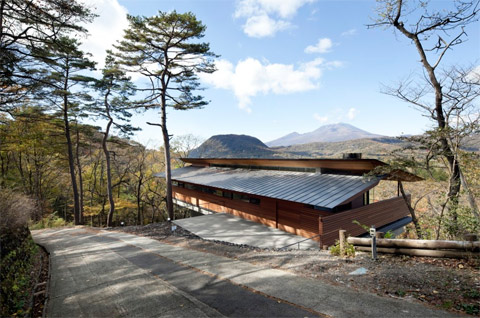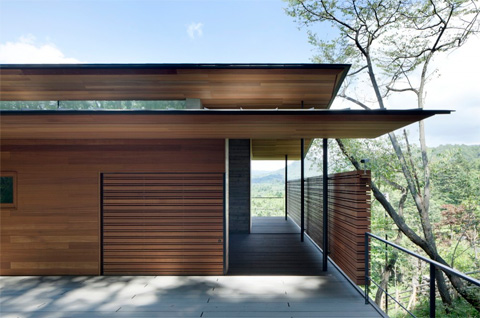 Living and dining room are gathered in a generous open plan facing the incredible mountain panorama; private rooms and kitchen are positioned on the opposite. A clerestory on the southern facade carries natural light into the private bedrooms while the social areas have a glass wall oriented towards the mountains. An outdoor wooden terrace envelops the entire northwestern side… the inhabitants and visitors are constantly tempted to enjoy the outstanding landscape.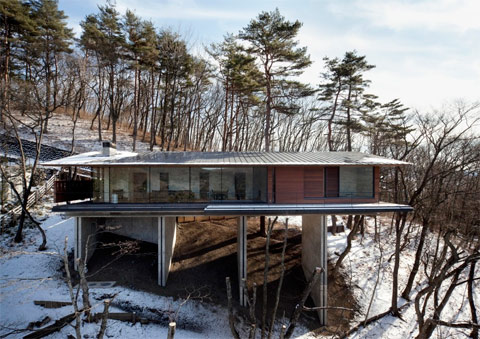 In order to perfectly blend with the surrounding trees, wood planks were used to clad the exterior surfaces of the house, creating a tuned dialogue with its natural environment. One final note: even in the bathroom the photographic approach to the landscape was applied whereas the bathtub is cleverly oriented towards Mount Asama!