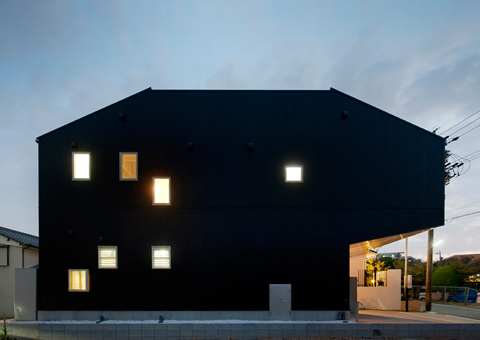 The Hansha Reflection House has a very unique location: it is situated at the entrance of Misakimizube Koen, which is one of the most picturesque parks overlooking the lake and surrounded by Sakura trees. Because of this location the house was treated like an object of the environment. Perhaps due to this, the house is called the Reflection House which has got several meanings here: interior/exterior reflection of the surrounding, introspective reflection of the spaces and of the house structure.
The building is a detached private home, which occupies the total area of 1335 sq. ft. I have detected 3 main features of the house, that in my opinion make it unique.
The first one is the second level of the house, which on the main elevation is cantilevered (with an extensive – unusual for timber structures – width of 3.2m) over the ground floor level. This cantilevered part hosts the dining, living and kitchen areas, so that there is an elevated view of the park out of the window. The window of this part of the building is the single one on this facade. It is architecturally solved as a main decoration and accent of the elevation – a true eye of the house.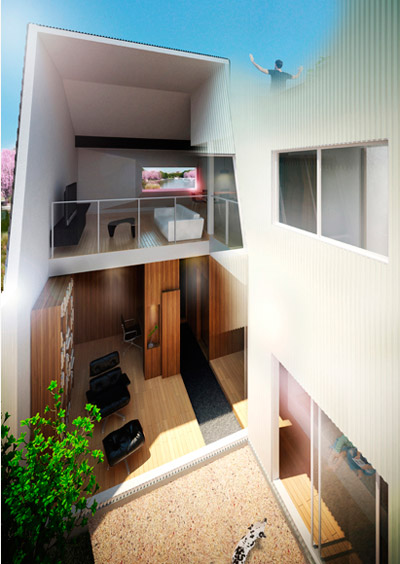 The second feature is the roof terrace. Looking at the closed structure of the metal-cladded body, you wouldn't think there are such opened elements as a roof terrace here. But it is, however, cozily settled there, in the middle part of the house, sunk into its volume, so that nothing reveals its existence from the outside.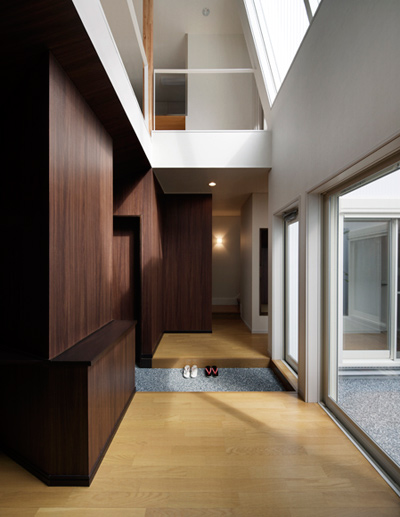 And the third most characteristic feature about the house is the incorporation of the small inner courtyard, the walls of which give additional light (through windows) not only to the living and entrance zones, located in the front part of the house, but also to the bedrooms, that occupy the 2 stories of the back part of the house.