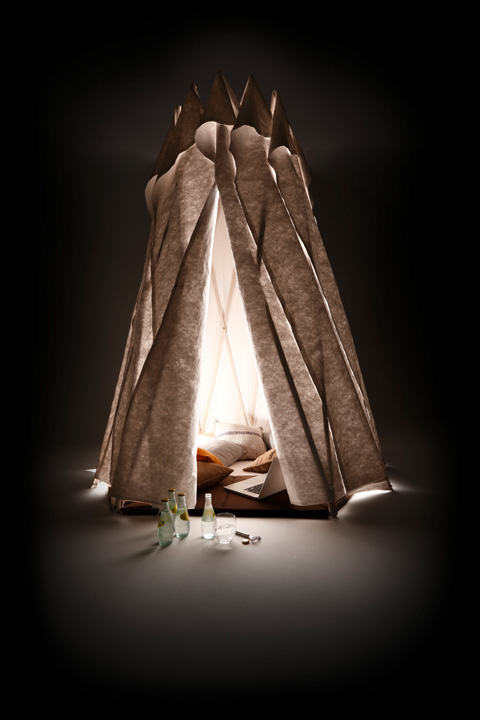 Tipis seem to have been on the spotlight since some time now, have you also noticed? I do love them so for they bring playfulness and a feeling of relaxation and return to carefree childhood times whether placed inside or outside. The Mikasi tipi, by designers Sascha Akkermann and Flo Florian is a fabulous example.
Starting by its name, the word Mikasi means "scissors" in Swahili and white moon in the language of Indians, quite appropriate don't you find? Its expandable accordion design which allows the tepee to stretch in a full diameter of 2,50 cm and height of 2,50cm, somehow reminds of scissors. The white color of its durable fabric would shine romantically under the light of a moon when the tipi would be placed in your garden or perhaps just somewhere under a tree near a lake in the woods or on the strand of a beautiful beach.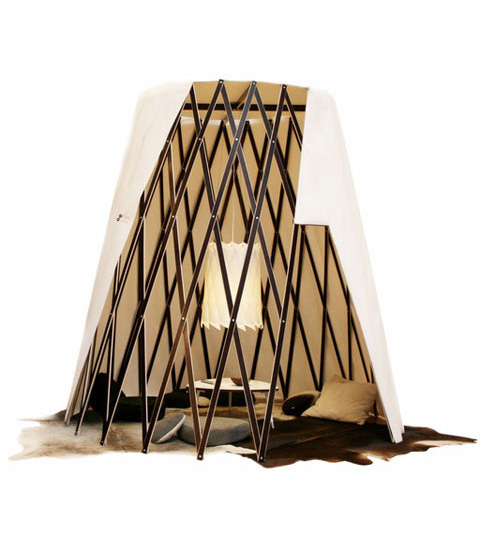 The tipi can fully adjust to individual needs, also depending on weather conditions. The 12 sails made from the durable fabric can be closed or open, allowing you to decide the amount of sun you wish to expose yourselves and your company.
In its tiniest version, Mikasi stands at 2,65cm high with its minimum diameter being 1,40cm. The sails are secured to wooden polls made from ash and can be adjusted according to your desires very easily with one hand. No wonder it received the Interior Innovation Award for 2013!
Are you with me in the thought that escaping inside this tipi would even make a "staycation" look mostly attractive and in fact adventurous enough for being around your home residence?