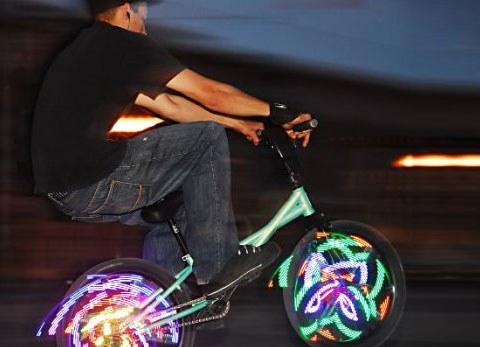 These brilliant bicycle wheel lights are actually transparent "blades" that attach to your bike spokes. As these blades spin during riding, a computer inside the blades modulates the internal LED lights so that design images and custom text appear.
These new spoke lights look like a colorful animated laser show has just whooshed by you. That's what makes this cool item such good bicycle safety lights. I mean, there is no way drivers could ignore you with those lights turned-on and I'm pretty sure it will stop a couple of people on the street too.
Each of these lights are sold separately so you can decide on the colors and how many you'd like. You can place up to six poke lights on each wheel, which will make you look even more amazing.
Lights are waterproof and have been designed so that they fit any mountain or road bike with a wheel diameter of 24″ or greater. Each blade houses 3 AA batteries, they can be used on front and back wheels at the same time for maximum safety and visibility. Remember, you can never be too safe on the road.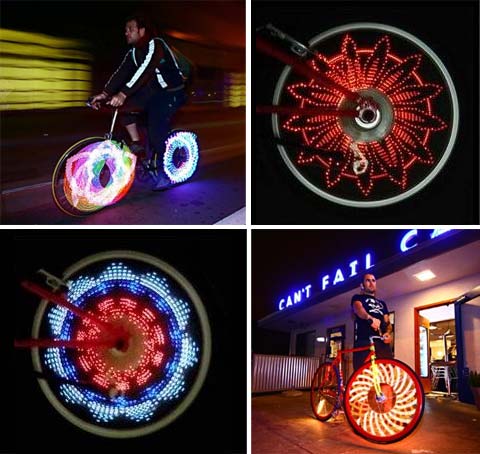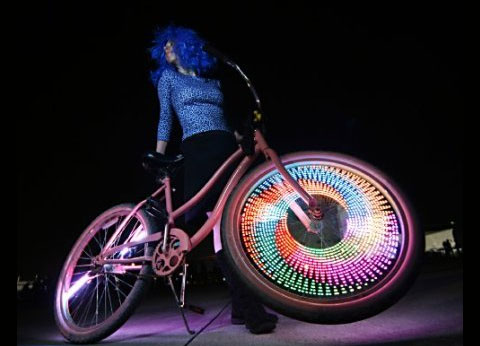 Buy This Item