The GPS revolution is here! We have all been waiting for the Dash Express Two-Way Internet-Connected Portable GPS Navigator to come out and lead us to the new world of Global Positioning Systems (GPS).
Here are a couple of things you should know about the Dash Express:
Dash is the first two-way Internet-connected GPS navigation system. Hey, just think about the endless possibilities of this GPS device, or as Wired magazine called it
"Dash: One GPS Device to Rule Them All".
Why should you settle for a regular GPS device which has stopped being current the moment it was pre-installed at the factory? With TruTraffic, Dash delivers the most accurate and current, reliable traffic data from other Dash devices on the Dash Driver Network; a true web 2.0 community feature.
In other words, Dash collects the best, most up-to-date traffic data available from other people driving real commute routes, during real commute times.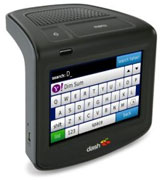 While most GPS devices can only access static, pre-loaded information, with Dash you can have live internet content in your car, including Yahoo! Local Search, so you can get the most current, locally relevant information.
With its AutoUpdate feature, your Dash automatically downloads the latest software, new features, maps and traffic data keeping you always up to date.
With the Dash Send2Car software plug-in you can send any address from the web or email directly to your device in seconds, so you can personalize your dash GPS right from your computer with new search lists, addresses, categories and more. This is pretty cool; just imagine sending your best friend (who owns a Dash) the address of your favorite restaurant with a note saying "meet me there at 8" – no doubt, he wont be late.