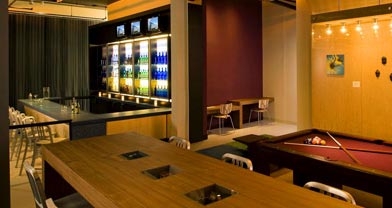 A new spin from Starwood Hotels & Resorts, aloft is a value-priced hip hotel chain and a cheaper alternative to boutique hotels for young business travelers looking for a hip airport location.
Already active throughout Canada and the U.S., aloft boutique hotels offer chic, funky and very high tech rooms with modern décor and wireless internet; a 24 hours bar & restaurant by the name of re:fuel station serves eclectic healthy food to go in an easy breezy atmosphere and in the entrance you will find touch-screen kiosks for speedy check-outs, so you wont miss your flight. Oh, did I forget to mention there's also a swimming pool and patio …cool.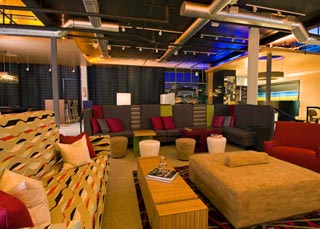 The aloft concept revolves around a communal lounge, a large living room-type space with plenty of seating, a pool table and big-screen Mac computers so you could meet other travelers, exchange stories, and have a few drinks.

Each room comes with a 9' ceiling, shower and toilet, wall-mounted LCD TV and a desk area with a gadget docking station which connects to the TV, so you could easily watch your own videos and travel photos – plug in and play away!