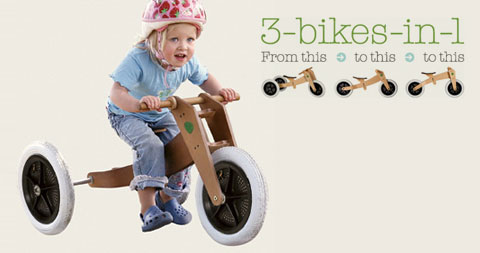 The Wishbone Bike, by toymaker Richard Latham, is the ultimate children's pre-bike. Based on the German-designed "running bike", its unique design enables it to evolve with a child's different stages of development, creating an innovative 3-bikes-in-1: from a tricycle to a mid-sized two-wheeler to a larger two-wheeler.
Built from sustainable materials with an adjustable seat, 12" pneumatic tires, and no pedals, the bike gives kids a running start at bicycle riding to develop balance and confidence.
It starts at age 1 as a trike, converts to a running bike as the child grows, and by four to five years old, the 'wishbone' frame is flipped, making the Wishbone Bike one of the largest running bikes on the market.
Meets current US, EU, Australian and New Zealand safety standards.

Buy This Item