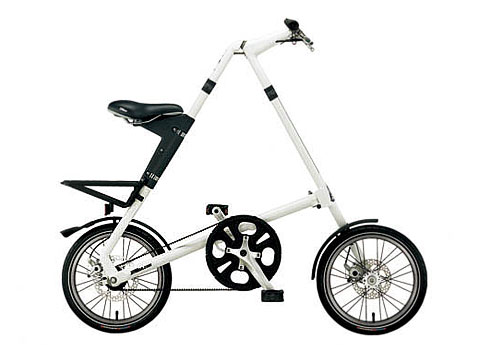 The Strida 5.0 is a truly innovative folding bike. It's actually the first completely new bicycle geometry in 95 years. It features a most unique triangular 7000 series powder-coated rustproof Aluminum frame that folds in 5 seconds, resulting in a light, compact bicycle that you can easily wheel, stow in a closet, load in your car or take on the train – perfect for the city commuter.
Unlike other folding bikes, the handlebars of the Strida 5.0 are mounted horizontally so the rider can sit comfortably upright with an excellent view of the road. Be sure to get a lot of compliments on the street, because fashion wise you simply can't go wrong with this beauty, it's a real gaze-stopper!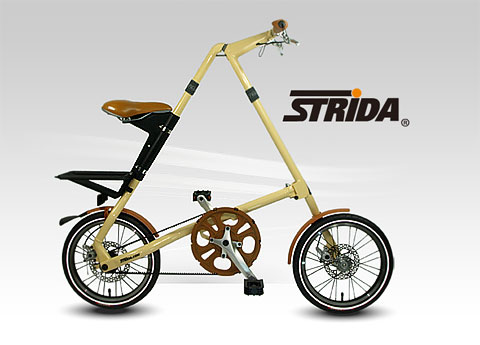 This Strida 5.0 is a single speed bike offering a fast and smooth cycling experience – just pedal and go. However since it only has one speed it is recommended mostly for flat areas and not for a hilly terrain. The power is transferred to the rear wheel via a clean, quiet Kevlar belt – no oily chain or gears to deal with – keeping your trousers clean without a hint of grease while you're commuting to work.

No need to bend down to fold it up because magnets do all the work for you, it's that easy. When folded, the bike is conveniently propped up vertically like an umbrella, it measures 45″ x 20″ x 9″ and can be easily rolled for transportation.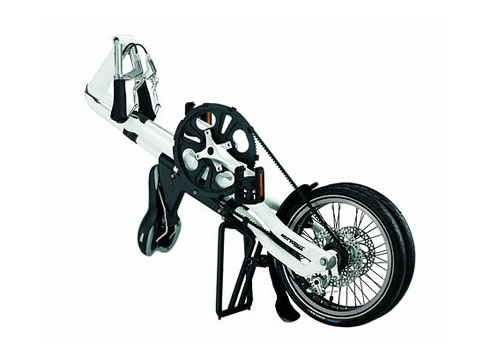 The bike also features a short wheelbase with 16″ alloy rustproof wheels, cable disc breaks, and one-sided wheel mounting for easy tire and tube changes.
Strida 5.0 Specifications:
Bike Weight: 22 lbs (10 kg)
Speeds: Single Speed -52 Gear Inches
Grip: Gel
Bottom Bracket: Welded
Luggage Rack: Holds 13 lbs (6 kg)
Weight Limit: 220 lbs (100 kg)
Height Limit: 5'4″ – 6'4″ (163cm – 193cm)
Color: White, Cream, Green, Blue, Purple, Yellow, Black, Orange, Dark Blue, Brush Silver, Red.