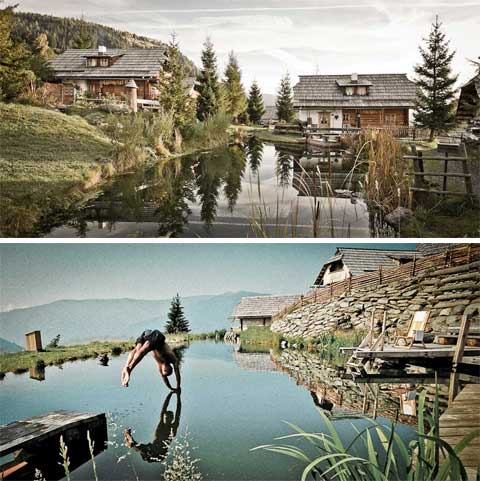 The Almdorf Seinerzeit is a charming mountain retreat close to the Austrian Nockberge National Park. It looks as if it was taken out of a children's fairytale, with its charming, chocolate-box village, 20 traditional mountain huts, bathing house, two ponds, and all the fresh air you can imagine.
Clinging to a hillside, the small village seems truly authentic, with snow covered roofs and woodsmoke puffing from every chimney. In every corner you'll detect an incredible attention to details, from the oil lamps hanging from the trees, wooden roof tiles adorning each cottage, and sweetcorn hanging from the chalets' balconies – Everything is oh-so-perfect!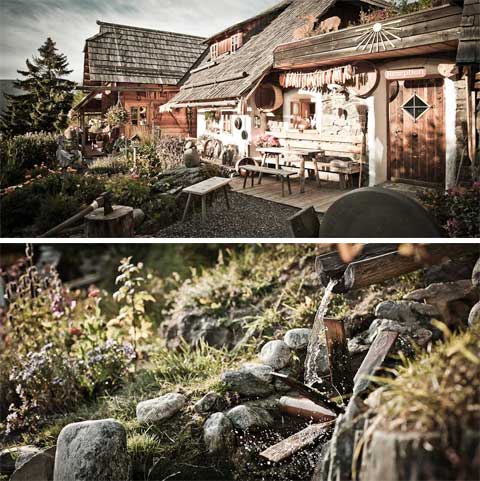 And here comes the twist, Almdorf isn't as authentic as it seems to be, but a re-creation of the ideal Alpine village. If you're thinking these cabins are at least a hundred years old, think again, because none is more than 12 years old.
But who cares, as you're soaking in a wooden bath after a day of skiing or simply relaxing high above in the clouds with a good Apple Strudel and probably the best whipped cream you've ever tasted.
Prices start at EUR 320 per day for 2 persons incl. breakfast.