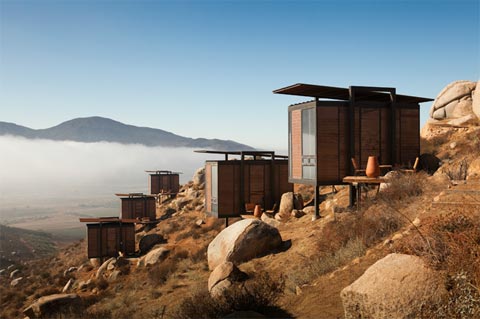 The beautiful Endemico Resquardo Silvestre Hotel, which consists of 20 separate rooms or small huts approx. 215 sq. ft. each, is located in Valle de Guadalupe, Ensenada, Mexico. People, it is sooo romantic!
The huts are situated on the slope overlooking the beautiful mountains. Each hut has a small wooden decked terrace with a cool southern fireplace, chairs and a table. You sit there and watch either the breathtaking landscape or the your partner carrying two glasses of champagne…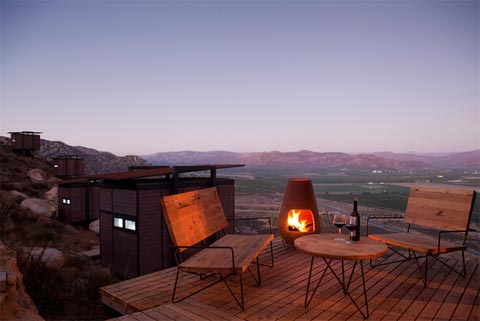 Anyway… Talking about the room. The inner space is designed in a very modern and fashionable style, which pleasantly surprises, since you don't expect to see it in such a small, separate and nature-friendly hut.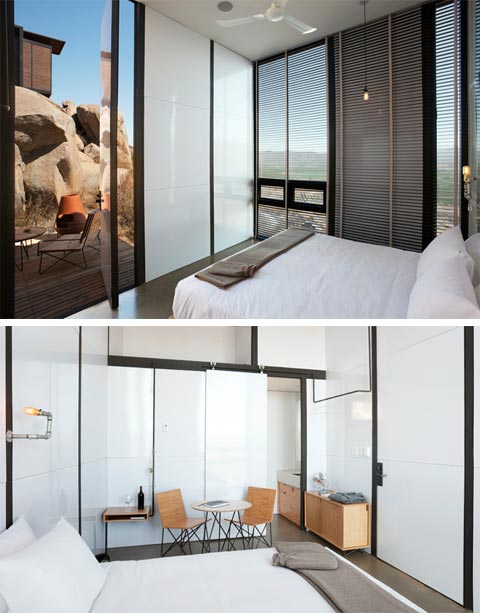 The structure of the huts is very simple. It is basically two n-like metal pieces set apart (on which the hut stands) and a simple metal skeleton in between. Due to this, the huts don't stand solidly on the ground, they seem suspended over it. The body of the buildings doesn't interact with the ground, so you don't get the feeling that there has been an invasion of the natural surroundings. Such a notion belongs undoubtedly to the philosophy of the project. Watching the natural environment without interfering with it was perhaps the idea of the architects.
People, it is so romantic, this hut-hotel!.. I'm considering planning a new honeymoon (who cares I've had one 6 months ago?)