In my youth, occasional camping trips were a joy and the some times cold, rain-soaked, rough-ground-for-a-mattress-conditions were a requisite part of the fun. And I must admit I felt that those "camping" in luxury motor homes were missing the true essence of camping. Fast forward a couple of decades, and the tune I'm singing around the camp fire has changed. So it delights me to find the now-trendy alternative of glamorous camping, also known as glamping.
The Ranch at Rock Creek, a working cattle ranch in Phillipsburg, Montana, is like an upscale version of the movie City Slickers…though guests driving cattle is not optional! It's more akin to Meryl Streep and Robert Redford dining on the African plains in Out of Africa.
Your choice of accommodations includes luxury canvas tents for the whole family or canvas, wood, and stone cozy comfort for two, and options in between. The luminous canvas is anchored by beefy timber and knotty panel walls. Cast iron stoves, rustic chandeliers, sumptuous linens, iron bed frames, and claw foot tubs, spread a warm glow after an exhilarating day.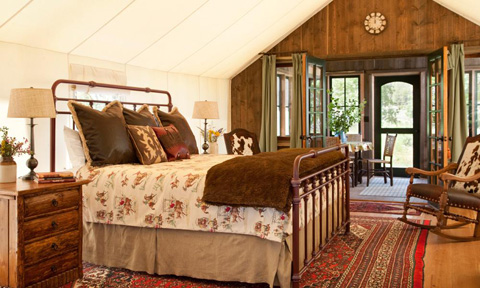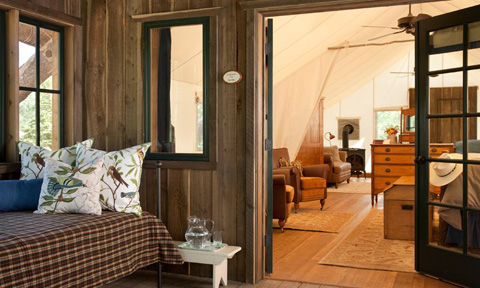 The Trapper cabin is fully equipped with a kitchen, including wine cooler. Its sprawling creek side deck has a custom soaking tub where you can truly enjoy an evening in big sky country.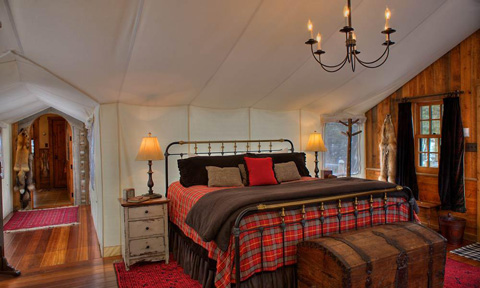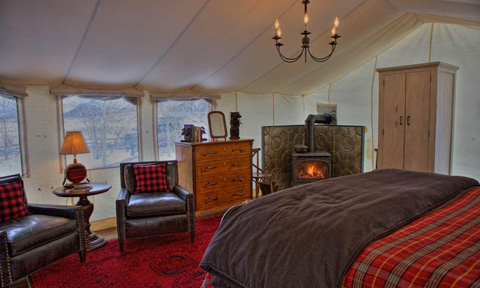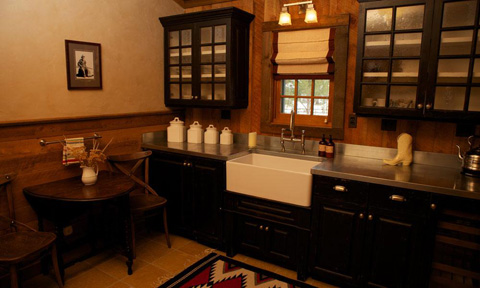 Photography courtesy of The Ranch at Rock Creek