We've already seen shipping containers converted into houses, cabins and offices, however this time the direction is even simpler yet so cool, especially in the summertime.
This pool is refreshing on so many levels. In its previous life the 22' x 7' steel container was a dumpster. New Orleans based architect Stefan Beese transformed it in to a luxurious and able-to-be-relocated swimming pool. The 30 cubic yard container was not only recycled but reborn with style.
The new pool yard was leveled and covered with limestone to protect the container's base. Beese then brought the strong and sturdy soon to be pool shell in to the yard and coated the steel with anti-corrosion paint. Cuts were made in the dumpster to allow for connection of the pumps and hoses for a salt water system.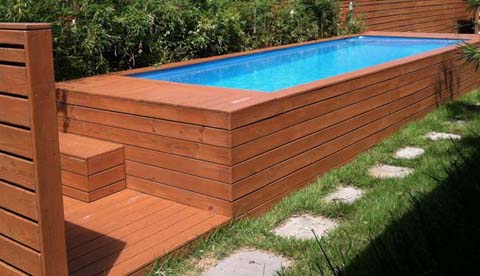 Next the interior was completely covered with high density foam insulation. This provided protection and cushion for the custom made and flexible pool liner. On one end of the former dumpster, is a recess used in transport. Beese used this to his advantage, creating a safe way to enter and exit the pool and a bench. The pool is five feet deep.
Beese then wrapped the container with pressure treated lumber. The wood covering is in panels so that they can be removed for transport and he can access the pool equipment tucked under one end.
You can check out the Beese interview here.
Architects: Stefan Beese