No, this is not an error as the name may imply; it is in fact Nashville's newest and smallest hotel. A collaboration between owner Mark Banks and Architect Nick Dryden, The 404 has emerged as a pearl within a sea of urbanization. When one visualizes a boutique hotel nestled within a dense city landscape, the words "infill" and "midrise" probably come to mind. What won't come to mind is the word "auto shop", which is exactly what was utilized to spawn this unique venue.
From the street, The 404 puts forward a great face. The facade is a very tasteful blend of wood and metal – darkened well enough to be offset by the burst of color exuded by the orange shipping container that partially houses the hotel's restaurant. This bold combination is as much forward thinking as it is a throwback to the industrial landscape that was once so prevalent in the Gulch – the community in which The 404 exists. All questions of practicality are answered upon entering this very unique hotel.
The street-side terrace gives way to the reception area, which doubles as the entry to the restaurant/bar area. Stepping inside, one immediately experiences the transition between repurposed industrial and warm, spacious, modernism. The space inside is a voluminous area, with 23-foot ceilings in what was once the old garage section. The scale of the interior is kept in check by altering materials and tones. The flooring is predominately polished concrete which transforms into a bold white color that then meets a dark, contrasting color halfway up the wall and onto the ceiling. The effect works perfectly to transform the space into one that compliments The 404's five suites.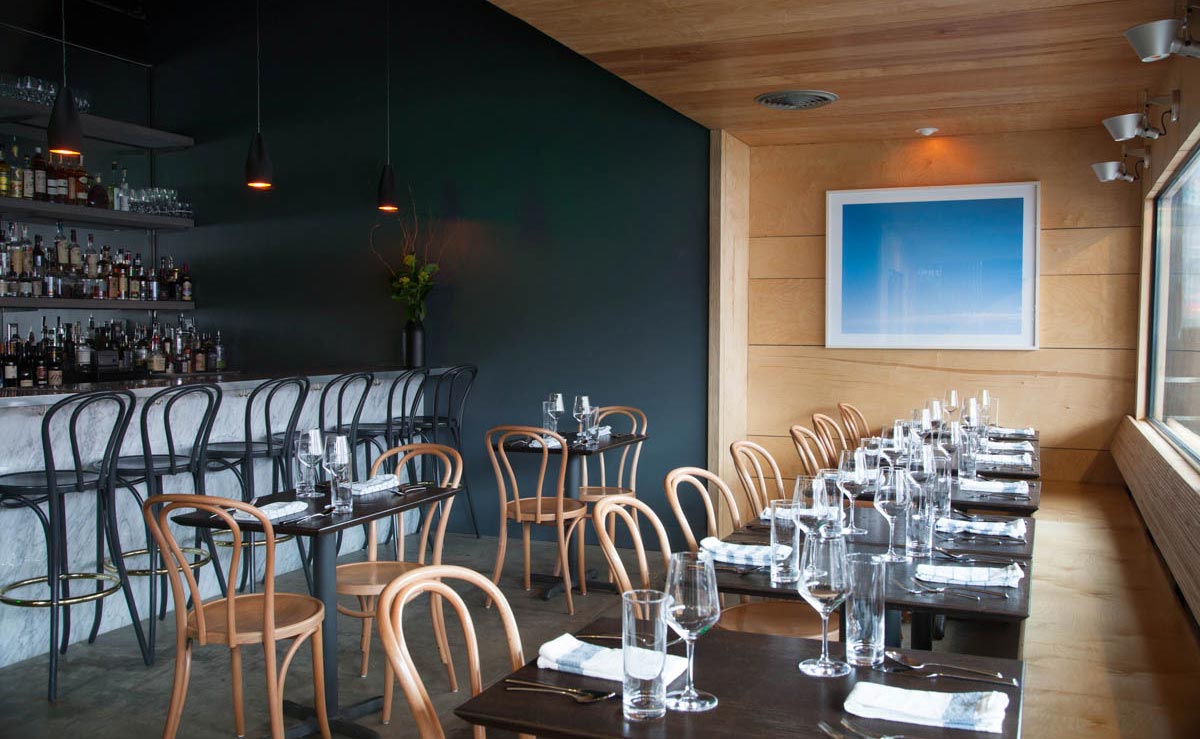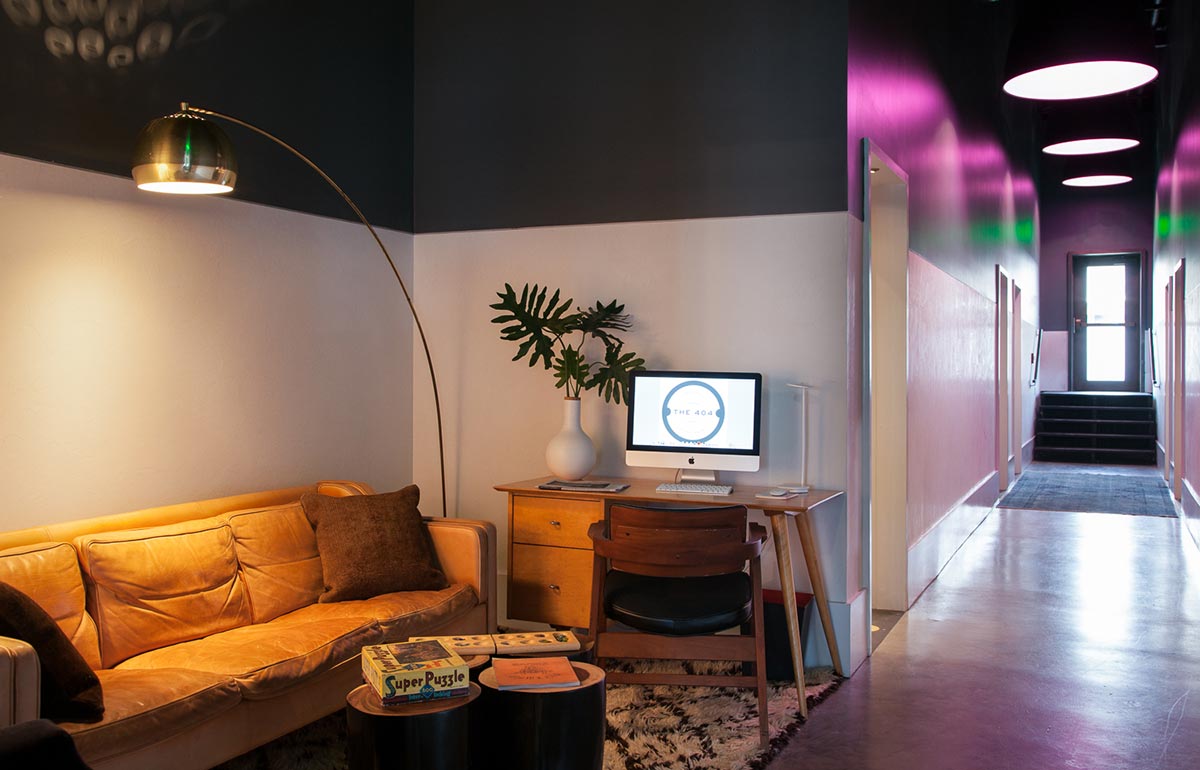 The hotel rooms themselves each bode well as a private oasis right in the midst of Nashville's hustle and bustle. The Architect took full advantage of the room height, and added lofts within each suite. Further space-saving techniques extend to the barn-door sliding doors from the bedroom to the bathroom, as well as perfectly appointed furnishings and lighting packages by well-known designers Artemide and Pablo. The trend of the past intertwined with the present is apparent – from vintage accessories to an abundance of subway tiles lining the bathrooms.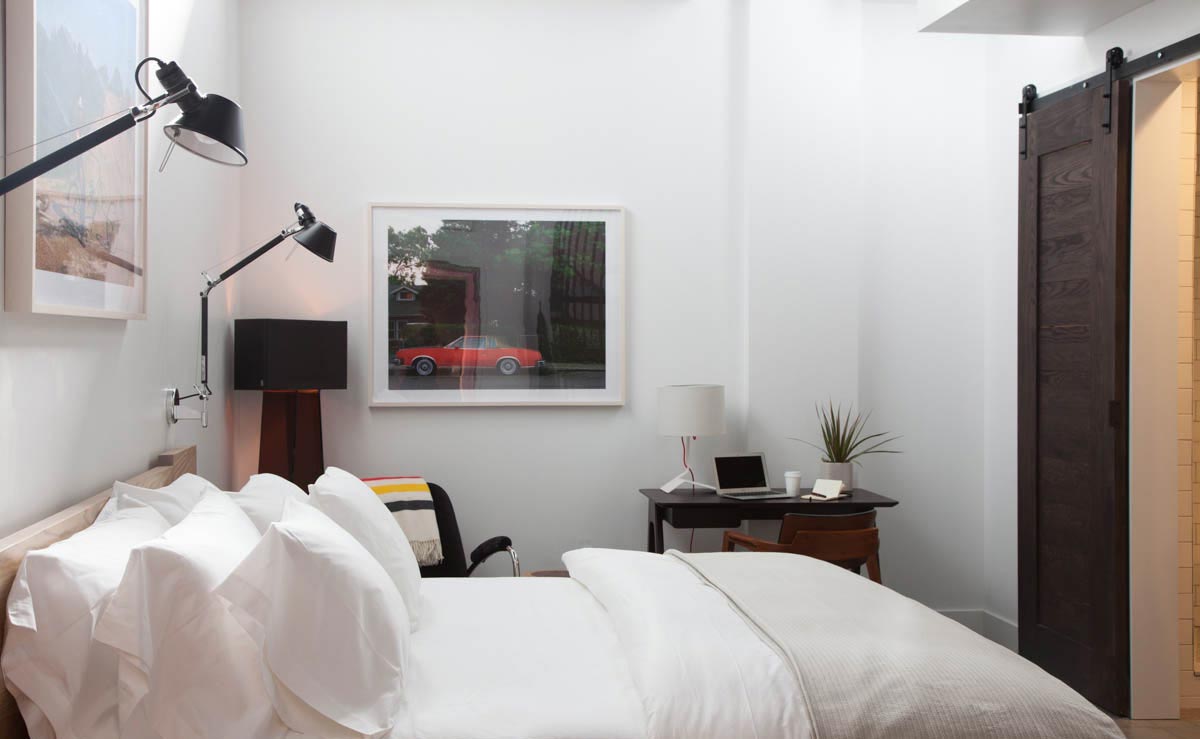 Architects: The 404
Photography courtesy of The 404