Samsung is a smart device juggernaut, and now their fleet of Smart TVs is getting even smarter. Oriented around the "Smart Hub," a kind of dashboard similar to a smartphone user interface, the Smart TVs can recommend new shows to you based on your viewing history.
Tuned to almost every sense, the Samsung Smart TV can be controlled with voice activation, gestures, facial recognition, and with a good old remote control.
Blending Rokus, Apple TVs, and more traditional cable or satellite systems, the Smart TV is outfitted with all sorts of applications that will intensify your viewing experience. Netflix, YouTube, and ESPN are all setup as easy-to-access apps. You can even Skype with friends and family hundreds of miles away using the Smart TV's facial recognition technology.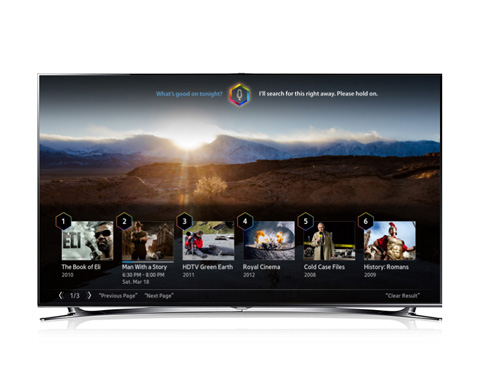 To make sure that your Smart TV is current every year, you can purchase the Evolution Kit that keeps your Smart TV software updated for consistent, uninterrupted use.
The LED model of the Smart TV line is a broad screen that looks like you're peering through glass into a verdant garden. All the structure is a massive screen and a glistening silver stand.
With its simplicity and almost invisibility, it will feel that you're truly in whatever you're watching.
Photography courtesy of Samsung.
Buy This Item