The faint of heart need not apply when it comes to Naturavive's cliffside transparent capsules. These "sleeping pods" are literally suspending by the rocks 400 feet above Peru's Sacred Valley. To access these pods, guests must navigate trails or brave the zip lines – there's simply no driveway leading up to these mountainside bird's nests. Love 'em or hate 'em, one certainly cannot dispute that these modules are quite unique.
At 24 feet in length and 8 feet in width each, these sleeping pods take space utilization to the next level. The tiny 192 square feet of interior space manages to squeeze in four beds, a dining area, and even a private bathroom that's fully separated from the "living" areas.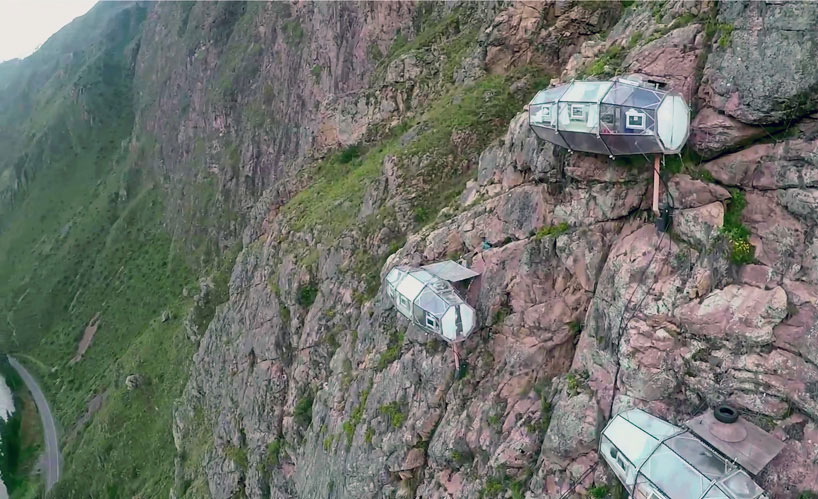 Although these polygonal shaped structures are handcrafted from aerospace aluminum framing and weather resistant polycarbonate panels, one can't help but wonder exactly what it must be like to try to relax in one of these pods in the sky. For some, it's likely to be one of the most tranquil and magical moments ever, while for others, it'll be a pure white knuckle experience; sitting in bed gazing out any one of the six windows overlooking the mystical valley below.
With the ample ventilation ducts, amenities above and beyond what you'd find in a tent, and the gravity driven bio-toilet system, Naturavive's solar powered sleeping pods offer tourists, travelers, thrill seekers, and adventurers a relatively low-impact and exhilarating experience that they won't soon forget.
Architects: Naturavive
Photography courtesy of Naturavive