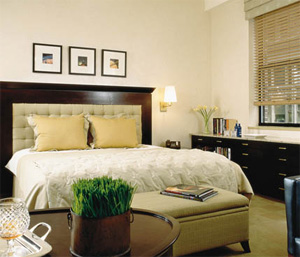 At the Library Hotel, one of Manhattan boutique hotels, ideally located on Madison Avenue and 41st Street, you will not sleep with the fishes but surrounded by a vast collection of books and art, we're talking over 6,000 volumes organized throughout the hotel.
I love New York City. It has this vibe you can't ignore, a kind of energy that keeps you high as a kite while wandering its main streets and avenues. While thinking about the city that never sleeps and all these people always on the move from one place to another, I remembered all those places off the beaten track, as you might call them. I guess that the Library Hotel is one of them offering a quiet haven at one of the busiest places in Manhattan.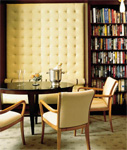 The Library Hotel is designed to feel more like a private club than a hotel. Guests may request their room based on their personal interests, such as the Literature floor featuring subjects from Poetry to Erotic Literature. Such intriguing room themes offered on the Math and Science floor are Astronomy and Botany. Law, Eastern Religion, Money, and New Media are also among the 60 eclectic themes available on the room menu at this unique concept boutique hotel.
By the way, if you're interested in Manhattan boutique hotels you might also be interested in:
Gramercy Park hotel