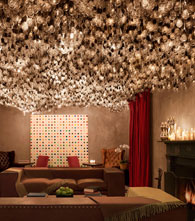 The Gramercy Park hotel is located in 2 Lexington Ave in New York city. It has been renewed and reinvented by Ian Schrager, an entrepreneur, Chairman and CEO of Ian Schrager Company, who has achieved international recognition for concepts that have revolutionized both the entertainment and hospitality industries.
The Gramercy Park hotel in new York city presents an original combination of styles, with great pieces of furniture and art and the extraordinary use of color, all representing a true modern lifestyle. This Manhattan boutique hotel offers a perfect modern alternative to the institutional approach one now finds in even the most high-end boutique design hotels.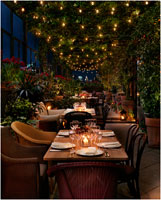 The Gramercy Park hotel Private Roof Club and Garden resembles a private salon or drawing room offering personal comfort and the intimacy of a private home while stargazing over the roofs of Manhattan. It is an original and unique indoor and outdoor space, with a retractable roof 16 stories above the city, including a massive ceiling light installation like chandelier creating a field of delicate light.
"The only way to distinguish yourself is to be yourself in the pursuit of your own personal vision" says Ian Schrager, who has a passionate commitment to the modern lifestyle.
The Gramercy Park hotel combines all the charm of London's private gentlemen's clubs and the Bohemian bustle of a Viennese coffee house in the city that never sleeps.
By the way, if you're interested in Manhattan boutique hotels you might also be interested in: Manhattan boutique hotel