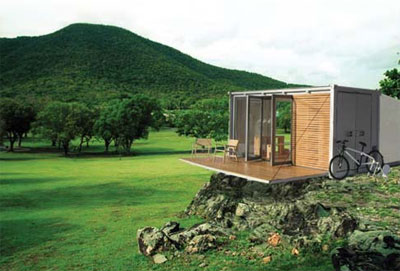 The All Terrain Cabin (ATC) ,designed by Canadian BARK, is basically a prefab cabin made out of old ISO shipping containers as the basis for the structure which have been outfitted totally with Canadian Design and Technology.
The result is smart and efficient. This prefab cabin or small house is suitable for a family of four and a pet to live off the grid in comfort and contemporary style. It travels by train, truck, ship, airplane or helicopter, folded up and indistinguishable from any ordinary shipping container.
Once it arrives, it unfolds rapidly to 480sf of self-contained, sophisticated living space with all the comforts of home.
BARK is a British Columbia registered non-profit collective of designers + businesses committed to raising the profile of Canadian design and ingenuity internationally, as well as here in Canada, for the benefit of all Canadians.