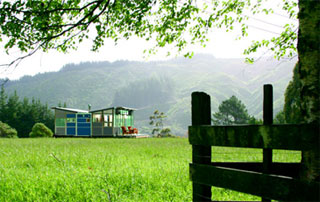 Shipping container homes by Habode are built on an eco-friendly concept designed by New Zealander Rod Gibson.
Container homes are great since your prefab home actually comes on the back of a shipping container truck and can be placed almost anywhere you want.
Habode are seeking to generate a significant impact on the way we think about a home, especially in the niche area of re-locatable, recreational homes.
This shipping container housing concept also provides quality accommodation for industry, urban accommodation for the service sectors and rural accommodation, for both permanent and temporary homes.
Habode prefab shipping container homes arrive ready for living, packaged to your specification with all its services and systems hard-wired in. Limited only by its 80 square metre footprint, you can configure the rooms, the doors and windows of your container home as you see fit.
"From its arrival in a metal cocoon on the back of a container truck to its unfolding as a complete home hours later, HABODE represents an amazing transformation in a remarkably short space of time."