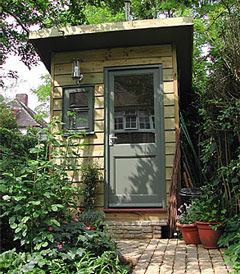 Hut prefab cabins are designed as practical prefabricated home offices and garden studios for work and leisure.
These prefab cabins can also be used as a library, gym, teenage hangout, children's playroom, artist's or designer's studio.
My partner and i have been working from home for the last 6 years, and for a very long time now i have been craving for one of these small cabins/offices/studios (however you prefer to call your prefab hut). We have a fairly large garden and i can just imagine myself working there, designing and writing, listening to music or just hanging out with a good book while staring out the window onto nature. Oh, what bliss.
These cabins / garden sheds are hand-built made out of fully-insulated timber, using only wood from sustainable sources certified by the FSC or the PEFC.
Hut offers 10 standard sizes to choose from or built to your exact sizes and specifications. The major advantage of these prefab cabins is that they can be installed in one week with little disturbance and often without the need for planning permission.