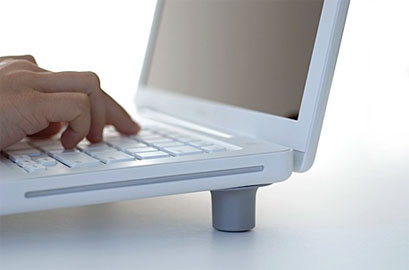 My laptop gets really hot; in fact manufacturers now prefer the term 'portable computer' since using your laptop on your lap might cause an injury. That's why when heard about Cool Feet, i thought to myself: how come no one thought about it earlier?
Cool Feet are compact supports that will temporarily fix to the bottom of your laptop with suction cups, raising your laptop just enough to allow a constant cooling airflow.
Not to worry…Cool Feet are simple to attach and detach; to remove, simply pull the small tab and store it for later. The package includes 4 ultra-thin clear smooth adhesive plates to be glued on the bottom of your laptop, to which suction cups will latch tightly, while remaining easily removable.

Cool Feet also raise your laptop for a better working position, so why go flat when you can enjoy a comfortable ergonomic angle for your laptop keyboard. No more noisy USB powered cooling pads, bulky cooling trays and stands. Cool feet are the total opposite, small, silent and handy. Perfect.
Buy This Item