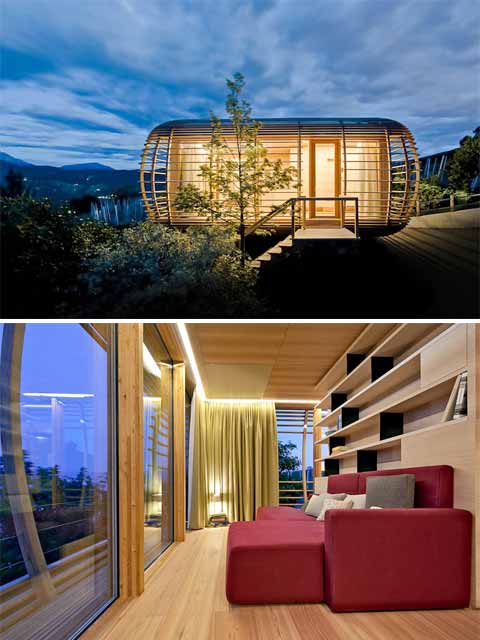 Following the Loftcube, German designer Werner Aisslinger brings us his new version for the mobile sustainable living unit; he calls it Fincube. The structure of this small prefab home resembles a wooden mushroom. It can be used as a guest house in your garden, a cabin in the woods, a home office, a conference room and more.
The Fincube is an entirely independent living unit with a 360º glass facade. It has a total floor space of 50 sq. meters, featuring unique exterior wood slat cladding, providing shade and privacy, combined with a contemporary interior design. The flat roof can either be greened or upgraded with a photovoltaic system for generating electricity.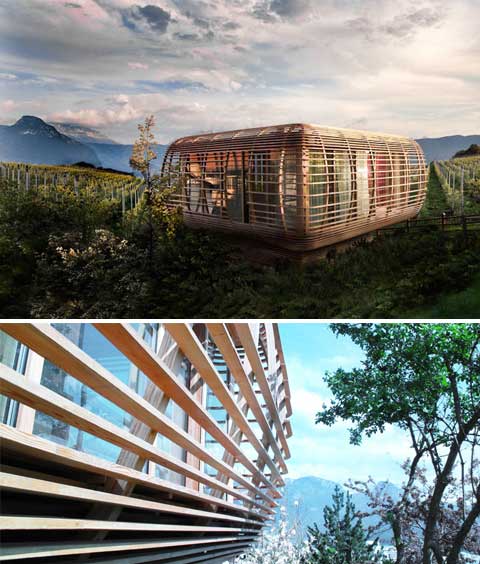 Based on a wood frame construction on four static supporting points, the prefabricated structure as well as the interior fittings are made from European larch wood, which is commonly used in the Alpine region. Apart from wood, the Fincube features materials such as glass, steel (foundation and mountings), ceramics and corian and natural first-class home textiles.