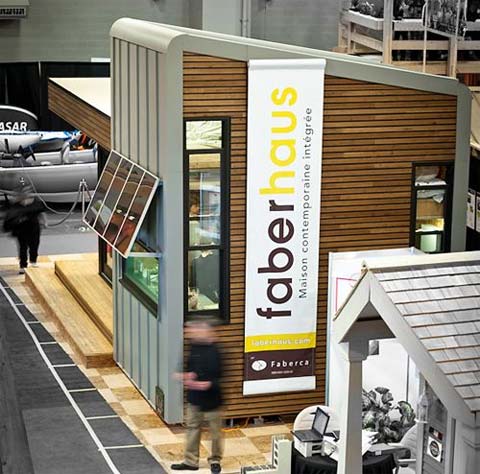 The Pavillon by Faberhaus is a new concept, currently presented at Montreal's 'The City and Suburb Home Show'. It's a small prefabricated cabin, only 450 sq. ft. (terrace included), designed to live a self-sufficient life open to nature. It prides itself to have a small ecological footprint, with a minimal impact on the surrounding land and environment.
This small prefab is 95% modular in-factory assembly; it can be used off the grid thanks to the use of solar panels and propane. The house exterior features steel coating and factory-dyed white cedar, while inside a polished concrete floor and laminated wood, and an Ethanol polished concrete fireplace complete the look.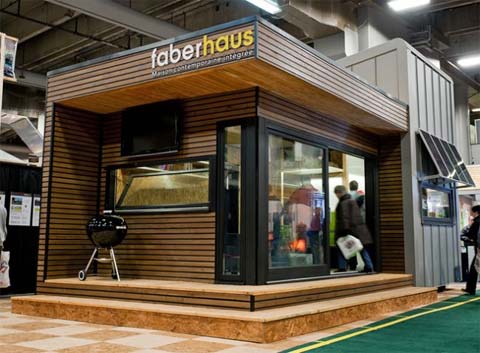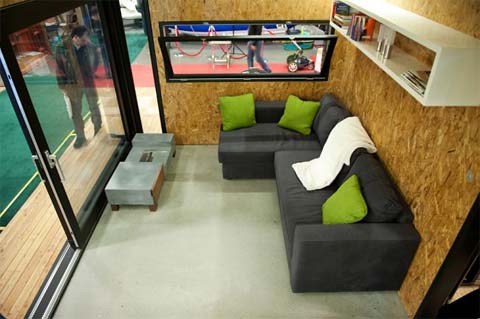 The structure consists of two stories; a functional living space for the entire family, a complete modern and ergonomic kitchen with stove and refrigerator, retractable dining table and bench made to fold up, a sofa bed in the living room, complete bathroom with a modern glass panel shower, a west-facing patio large enough to accommodate a BBQ and cook outside. What else can you ask of a total space of 450 sq. ft.?