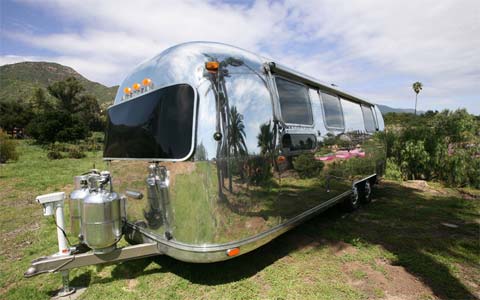 I was quite surprised when I read about an architect, who decided to buy and remodel a 1978, 25-foot Airstream trailer to serve as his living/working space. However, when I saw the result I was literally blown away.
When architect Matthew Hofmann made this decision, some people just didn't get it while others said he was living their dream. What was once an old broken down travel trailer turned into a polished, bright and airy, modern living space.
The primary goal was to live in a small, comfortable open space, that was mobile and easily converted from residence to workspace. After looking at expensive condos and lofts in the Santa Barbara area, Hofmann decided on the Airstream trailer he found on Craigslist; regional materials and reusable products were used in the remodeling process, while material scraps and old appliances were sent to the recycling yard, sold or donated.
When you're living in a travel trailer, both space and weight are to be considered; the load needs to be properly balanced while furniture and appliances should be multi-functional and space saving.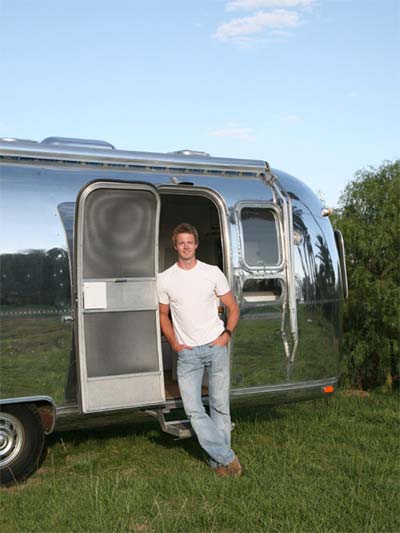 The newly remodeled trailer features a modern open space, with bamboo flooring, that is both smart and compact. The new kitchen features a stainless-steel sink with a 23-inch pull-out spray chrome faucet, a three-burner propane stainless gas cooktop, countertop stainless-steel toaster oven and refrigerator.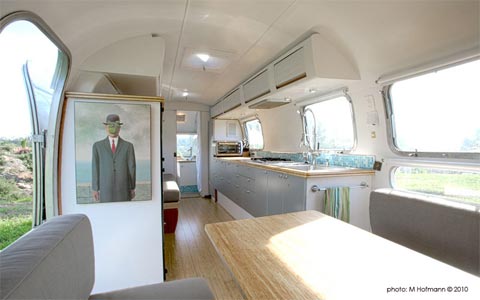 The old dining area now serves as a dining room, workspace and media lounge with a 27-inch iMac for watching movies and an office printer tucked into a custom-built pullout drawer under the bench. A natural strand bamboo surface replaces the old tabletop, which was reconditioned and used as shelving in the cabinetry. The dining area also converts to a guest bed.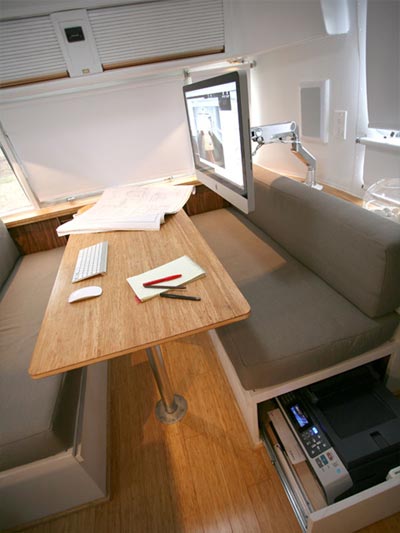 Other extras include an integrated pullout pantry system, a custom seating system that converts to a full size bed, cabinets with halogen puck lights, and in-wall speakers surround-sound system; the bathroom completes the overall modern design, featuring custom LED lights, durable and sustainable custom-cut counter tops, tiny recycled glass tiles, a custom-built redwood shower pan, and a 14-inch glass sink.