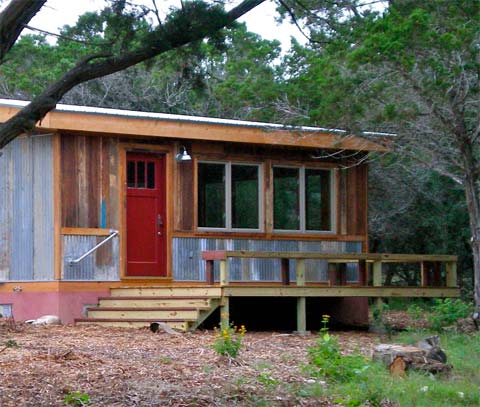 These prefabs, from Reclaimed Space, are all about modern sustainable living, while building with reclaimed materials. Spaces are constructed as a typical stick built home; all are fully insulated and come pre-wired and plumbed. As all prefabricated homes and cabins, they are transported to their site, fully complete, and set on concrete foundations.
This (rather) new approach to prefab construction is providing a whole new concept to what we call home. It only takes 6-8 weeks to get your "new" cabin up and ready. And the best part is, it's one of a kind!
Look at all these different textures and materials – each one is full of character, which is kind of just the opposite to what you would expect from a factory-built, ready-made home.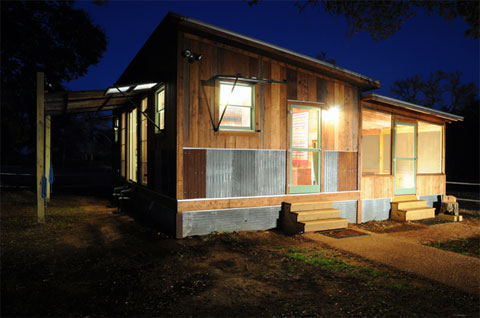 Each house features handmade furniture out of reclaimed materials, open floor plans bathed in natural light, and pitched roofs that create a larger feel.
"We make sure each space is unique in both look and character, turning imperfections into places of beauty and warmth."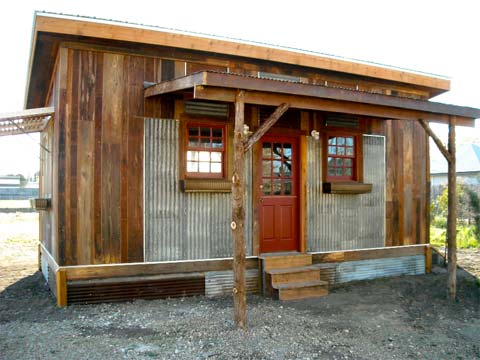 Here is Tracen Gardner, founder, explaining how Reclaimed Space got started:
"I came up with the idea for Reclaimed Space from a need for a living space on my ranch outside Shiner, Tx. There is no electricity or running water and it is located 15 minutes from the nearest hardware store. Did not want to use all the energy driving back and forth, recognized the constraints of the amount of time and confusion meeting sub-contractors in a remote area, had a fear of not completing, and the concern that it would take too long to 'dry-in' working on weekends only. Decided to build it to fit a 'shipping envelope', not too tall that it would hit bridges, wide enough to be usable, and incorporated sustainable practices I learned at UT – cross wind ventilation, single pitch roof for rain water catchment, solar compatibility, oriented long way east/west for preventing too much sun, over insulation, and to be placed on piers to eliminate the need for a lot of concrete and to have the capacity to relocate easily if needed. Since I painted my way through college payments, I knew where the most damage occurred from the sun and rain. To compensate for this, I place galvanized tin on the bottom 1/3 of the north and south walls, and almost all of the east and west walls. The structure was built with eves for the same reasons.

Next came style, for years I had collected 100 yrs old material because of my appreciation for it's structural strength, historic value, to save landfill space, and because of it's rich colors and textures.

Once the first one was built, friends told me I should start a business of building and selling more."