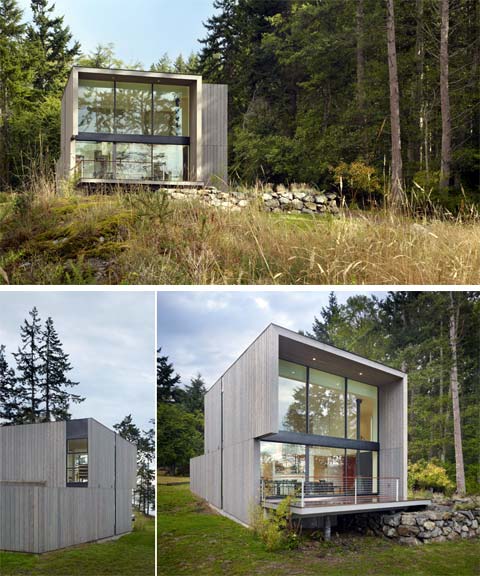 This modern prefab cabin sits in a beautiful location on Washington's Orcas Island, a short walk from Doe Bay Resort. It serves as a small getaway home for a couple and their two young children. The challenge was to design a modest cabin in size and cost (but not in character) that will capture the spirit of its surroundings while reflecting the Japanese and Chinese heritage of the owners. Quite a task…
The structure is based on a prefabricated structural panel system (SIPs) and the simple form of a box. SIPs are strong, energy efficient and cost effective building panels, consisting of an insulating layer of rigid polymer foam sandwiched between two layers of structural board (for example, sheet metal, plywood, cement or oriented strand board (OSB)). And the best part is, SIPs are manufactured in a factory and can be custom designed for each home.
Doe Bay Cabin features an extremely energy efficient envelope – an enclosed box with an impressive 19ft high x 22ft wide window-wall, with unobstructed views, and a roof garden. Inside, a modern-Asian look and feel flows through the 1,050 sq. ft. of living space; from the overall color palette to the large screen room dividers in the downstairs bedroom and the sleeping loft upstairs.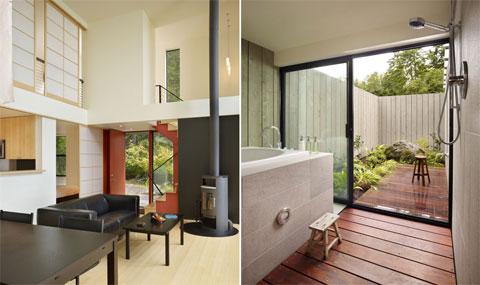 The entry is one of my favorite features of this house; a well-planned space, full of natural light, combining red and black colors with natural wood. I love how the bottom stair also serves as a bench, and the charming piece of art depicting two kids surfing the waves.