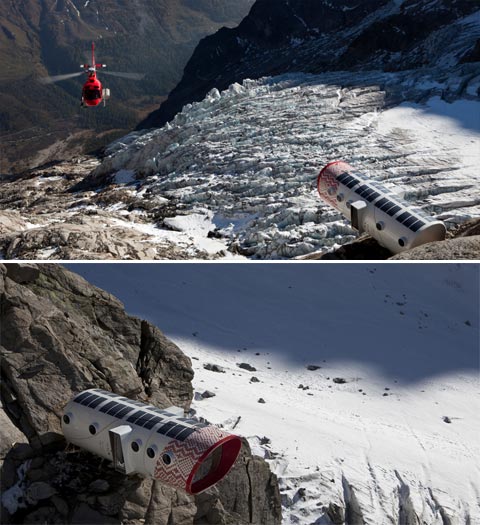 If you're into serious mountain climbing – listen up! There's a new way to live in the mountains and it's called LEAP (Living Ecological Alpine Pod) – a modular shelter that is entirely prefabricated and assembled off-site; it's completely self-sufficient, and designed to resist the extreme stress of high alpine altitudes.
With its modern tubular shape, LEAP doesn't try to resemble traditional alpine structures. However it is designed with the utmost respect for the environment, and can be transported by helicopter without leaving any environmental impact on its natural surroundings.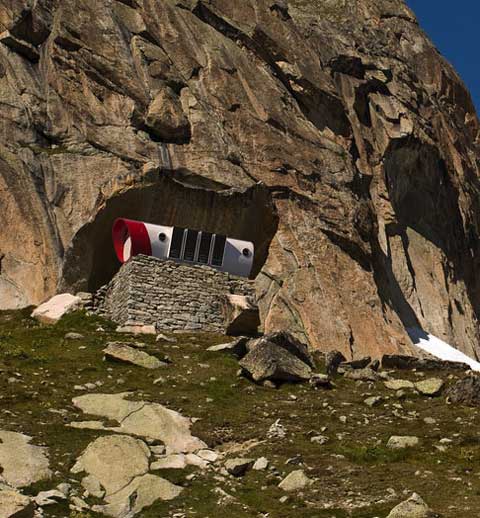 This prefab pod is comfortable and smart, featuring a modular design which allows for various combination. An entrance unit with thermally isolated inner door, storage/drying rack and rescue equipment compartment; kitchen/dining unit with pantry and cooker; a sleeping unit with adjustable bunks for one person or a group; and a living unit with panoramic views of the surrounding landscape. A sanitary module equipped with a biological toilet is also available.
Technologically sophisticated construction methods are derived from the nautical and aeronautical industries. The outer shell of the pod is incorporated with photovoltaic film to provide energy.