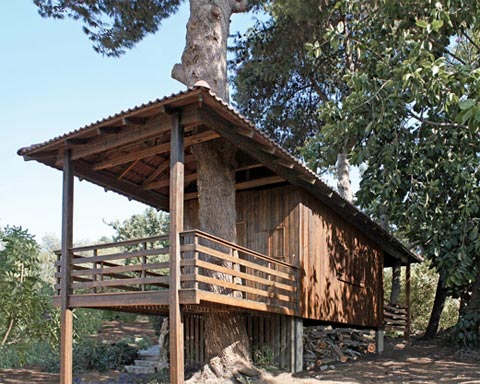 Simplicity is one of the most audacious challenges that any architect can have. The Two-tree house shows us how this goal is always possible, and when it happens simply leaves no one indifferent! Why does it work? Let's find out the main reason for the birth of this amazing prefab home.
Two mature pine trees gave shadow and shelter to a small site in Jerusalem…and now also to a 45 square meter house. The L-shaped plan takes advantage of the trees' location, preserving them untouched and secured.
In fact, their role in this architectural equation is fundamental: Prefabrication was chosen to guarantee the low budget but also to preserve the existing nature. The house seems to follow a hidden formula ruled by the relation between pairs… Surprised? Let me explain: two recycled shipping containers form the L-shaped plan. Behind the timber cladding and the pitched roof there's a light metallic structure – a brilliant solution to avoid any kind of destruction.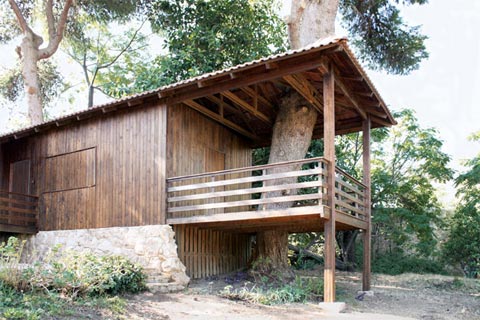 One of the containers is now a living room with a fine terrace facing a large tree trunk The other contains a bedroom, a bathroom and a small office space opening onto the second tree terrace.
From the outside it's impossible to detect any evidence of recycled shipping containers… the "organic suit" made out of timber cleverly disguises this small prefab structure along with the stone walls and deck terraces. Jerusalem pine trees not only offer attraction to this exquisite house but also serve as a natural source of air-conditioning… Now, isn't this a fine example of simplicity?