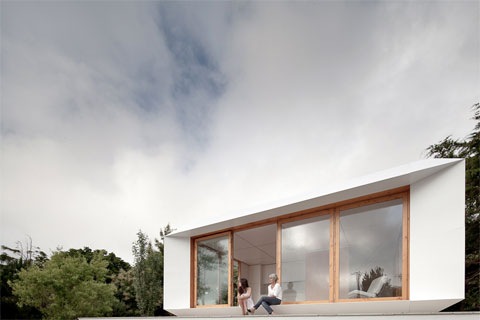 A modular house that can be personalized is always a fresh statement in architecture, and the Mima House is no different. A small prototype is now available in Viana do Castelo, Portugal, for the most adventurous believers in modular housing. A prefabricated cabin aims for a flexible, light and fast produced construction. The cost of this 36 sq. m. volume is similar in cost to a mid-range car. Very attractive price for a house which can be erected in every kind of site and climate!
But how does this magic modular construction works? Simple and easy: a modular 1.5m network arranges four large windows along the facade as well as interior walls which can be easily moved by two people. Got your attention, didn't I?
There's still more rabbits to find inside this mysterious hat… The center units (kitchen, bathroom and bedroom) are capable to swing open and rest in front of the outer windows in a very discrete and integrated way. Plywood partitions can be disposed for privacy between the units: natural wood or vibrant color finishing are also available.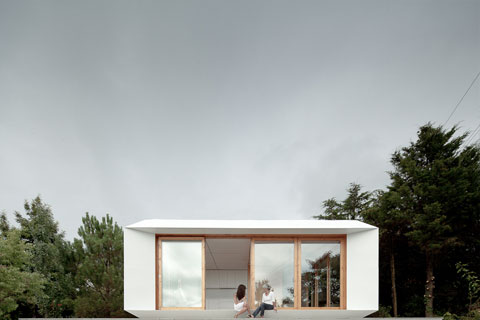 In fact, the framework and customization alternatives of this prefab can create various designs, making it hard to find two homes that look alike. Last but not least, once a site has been chosen, clients can define the exterior and interior configuration based upon their personal desires with a 3D interface. Afterwards, a 1:50 scale model and a technical specification book representing their selection will be mailed to them for forward agreement. Doesn't this make you want to join the world of prefab?