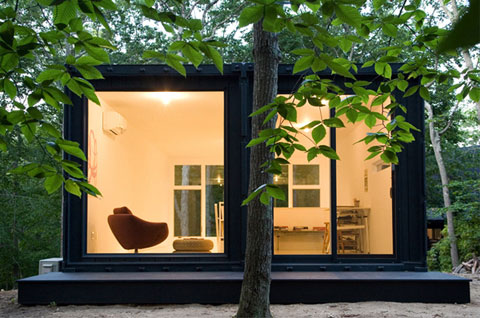 Recycled shipping containers always surprise us with their unique versatility and ability to shelter any kind of program… In New York, an artist has a special studio made out of this outstanding prefab.
Once again, low budgets often lead to brilliant solutions: Container Studio consists of a simple structure (78 sq. m. of total area) featuring two modular shipping containers positioned next to each other on a foundation wall.
The height of the interior space was increased by cutting away a large amount of the containers floor, connecting them with a basement space beneath. Actually, this particular two level option offered a supplemental space for underground storage.
The distribution is quite clear: at the upper level we can find the main entrance, a small work area and a large staircase, inviting us to the heart of this little building, the painting room!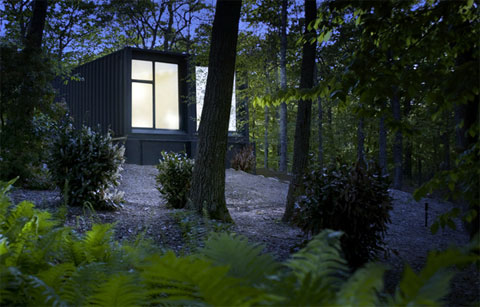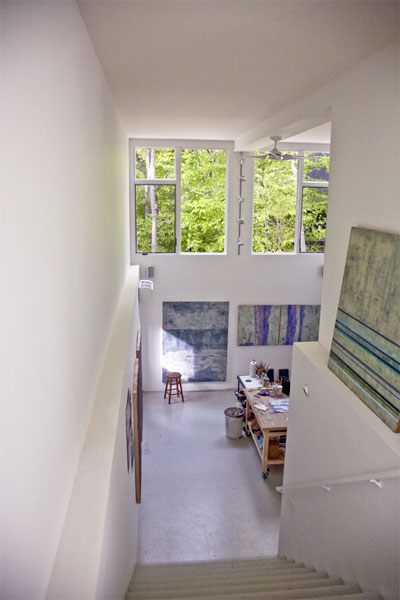 In order to obtain the perfect abstraction from the industrial aesthetic of the shipping containers a variety of ingenious details were elaborated, from the exterior to the interior. The exterior steel surface of the containers was painted dark charcoal to preserve continuity with the original house and to quietly vanish in the shadows of an impenetrable surrounding forest.
The interior was delicately painted white to reflect light in every direction, kindly guided by the full glass facades that seal the containers at both ends. By night, a black pearl emerge from the dark forest…