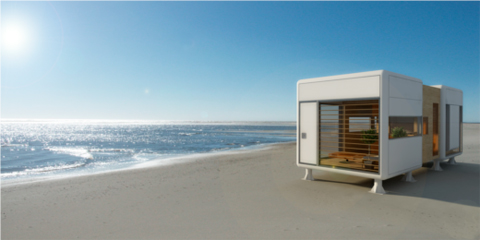 The Chamfer Home was created as a fully autonomous prefab house. The architects wanted to make a stylish, sustainable and affordable cabin, which would fit a modern lifestyle. The sustainability of the house features efficient heating and cooling, daylight exploitation, solar collectors, passive ventilation, sustainable materials, special double glazed windows, and more.
All the functional spaces of this prefabricated vacation home are highly optimized. As a result the client gets a fully functioning cabin (including bathroom and kitchen).
The inner space of the house can be extended up to 290.6 sq. ft. Every detail of the interior (whether in kitchen, bathroom, or in the living area) is carefully planned, so that everything about the interior not only functions well, but provides an aesthetic value. Indeed, the inner design of this holiday home is very sleek, the big glass surfaces of windows, bright colored plastic panels of the inner walls and stylish furniture make the interior of this small prefab cabin beautiful and attractive.