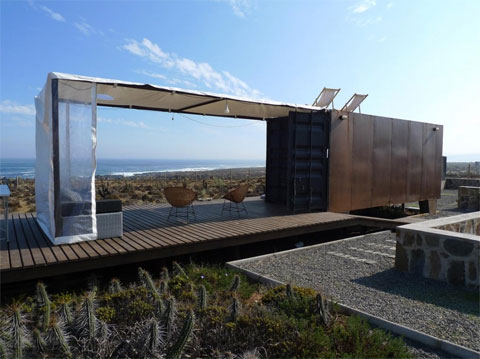 Refuge is – by common definition – a place or state of safety. In Huentelauquen, Chile it's called paradise…Beach Refuge represents a small project for a holiday home based upon a restricted number of premises: low budget and a conscious sense of Eco-friendly values. How can all these different principles determinate the development of such a challenging architectonic exercise? Only 24sqm of constructed area were necessary to create a tiny beach shelter: a recycled container is lifted from the sand along with a wooden deck terrace.
The access is guaranteed by a ramp or stair depending on where you are coming from: the first serves the parking area while the second invites us to drown our feet in the warm sand. Two container-doors work as the front door of this unique hut: once inside a kitchen space and a bathroom fill the exiguous area of the recovered container.
What about the living and dining areas? Well, the deck terrace has a steel structure with similar dimensions as the container – 6×2.4m – that holds a PVC sheet for wall and ceiling when required…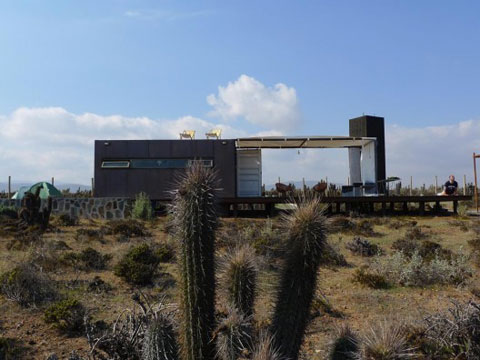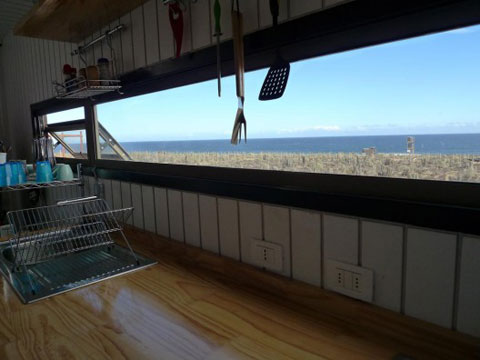 But the most radical detail is reserved for the private program: a conventional water tower conceals the most unexpected mixture of different functions: a warehouse and technical room are positioned on the first level; a bedroom is placed on the second level taking advantage of the high views over the beach while a water tank is stored on the third level.
Both buildings are ingeniously clad with Corten steel plates in order to merge discretely with the surrounding environment. Wooden boards painted in white were used for interior walls and ceilings. This is what I call a pure manifest of how minimum resources can sometimes be the ignition to achieving outstanding results…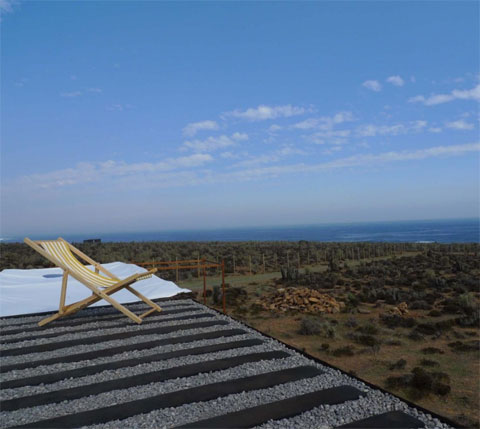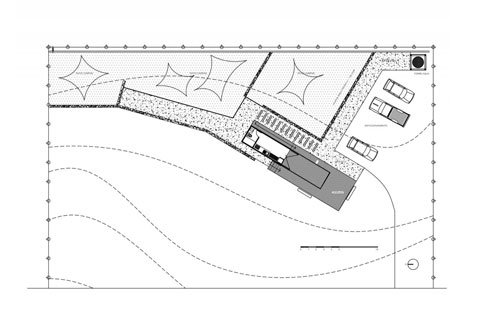 Architects & Photography: Pablo Errazuriz