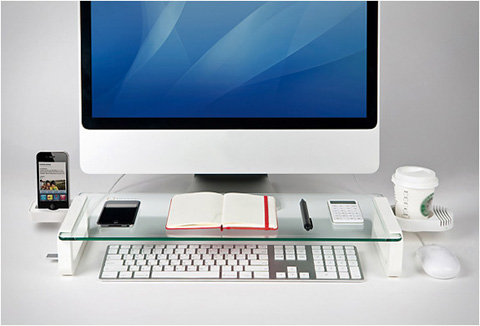 When I work, I often have a few specific things I like to keep in a certain orientation on my desk. My computer, a cup of coffee, my simple notebook for when I need a little analog activity, three pens, one blue, one black, one red, and a tablet of graph paper for drawing random sketches with a felt pen. While each of these things is somehow important to my routine, they have a tendency to clutter. Instead of distracting myself from my work by constantly pushing my notebook back to its appropriately obsessive position, or re-organizing my pens, it would be better to have an object that kept everything where I need it to always be.
The Uboard Smart, a tempered-glass table that sits above a desktop keyboard, permitting space for typing, is the kind of tool I need.
Acting almost like a desk on top of a desk, the Uboard Smart is a combination cup holder, smart phone dock, and notebook platform equipped with plenty of spare USB ports for whatever else you need to connect; surely the one thing your desk lacks is electricity.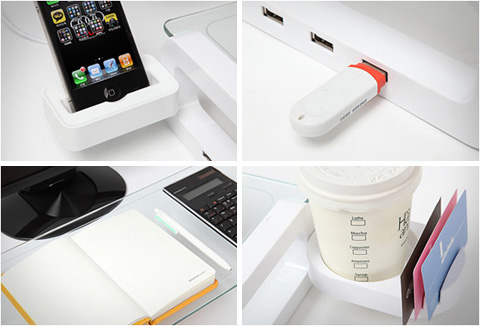 With its function instructing its design, the Uboard Smart is really just a curved-edge piece of glass supported by two beveled white supports with a simple recessed plus-sign symbol finishing the simply focused design of the device. Like most industrial designs, the Uboard Smart is difficult to categorize as a piece of furniture, technology, or artwork, but it succeeds as a beautiful example of each of these.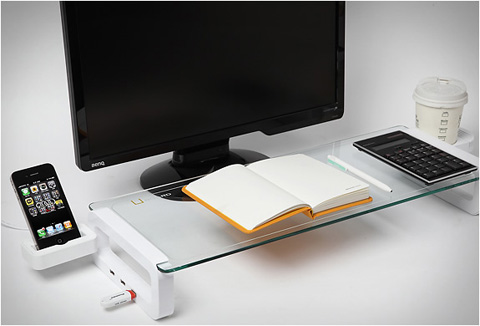 Buy This Item