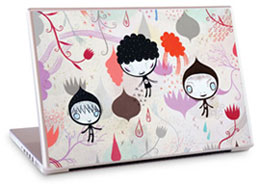 Computer laptop skins will probably be the next best thing, if it didn't already grabbed your attention. I never understood why computer hardware companies especially laptops didn't go for unique computer laptop skin design any sooner.
I mean, wouldn't everyone want to place their special designed skin on their laptop which they probably carry with them everyday and anywhere. Who says a computer laptop skin should be black, gray or even white?

That is exactly why I love GelaSkins. Offering skins design for iPods and laptops, they work with artists all over the world, providing photo-quality artwork showcasing everything from fine art prints to graffiti style street art. Now you can customize your life with artist-designed removable skins for your iPod or computer laptop and stand out in the crowd.
GelaSkins are super low-profile protective skins for your Apple or PC laptop computer, iPods etc. They are very thin, protective covers made with premium grade 3M vinyl and adhesive technology. Patented micro-channels in the adhesive prevent bubbles from forming during application. The advanced 3M adhesive makes them cleanly removable when you want to switch up for another design.
By the way, the laptop skin you see on top is called "Peeking under leafs" by Jeremiah Ketner, a Chicago-based visual artist.


Buy This Item