These days our number one challenge is never running out of juice. Carrying batteries and chargers for our mobile devices is usually bulky and heavy, and doesn't really fit with the urban on-the-go lifestyle. Meet the Power Card by Dubleup. Measuring a mere 5.5mm thin and weighing only 40.0g, the Power Card is ultra-light, ultra-thin and ultra-portable, and since it's the size of a credit card it fits perfectly in your wallet.
Measuring 86x54x5.5mm, the Power Card is a small rechargeable Lithium battery with a capacity of 1280mAh. It has a built-in Lightning or Micro-USB to USB charging cable that snaps into place when not in use. It features 3 tiny LED lights that display battery levels and charging status. Once they all light up and stop flashing, the Card is fully charged and ready to recharge your phone. Simply press the On/Off button on the back and get ready to power up.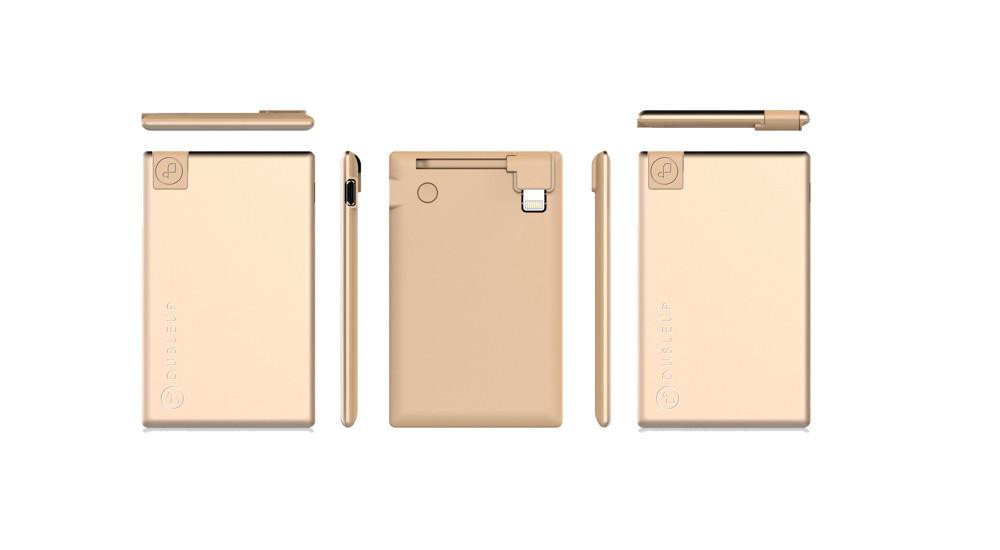 While recharging, the LED lights will start to fade. When all three lights no longer appear, the battery has been depleted and your mobile device has been recharged. The only thing you need to remember is to keep the Power Card charged and ready in your wallet.
The point of the Power Card is to provide additional charge to get you through the day. And in this case – size matters.
It depends on the make and model of your phone, as each phone has a different sized battery. Android phones vary in battery size (usually being a lot larger than Apple's), therefore, the extra charge they will receive from the device will be less than that of the iPhone. For example, if your iPhone6 is on 5% and you don't use it while charging you can get a full charge. In our case, the LG smartphone got additional charge of only 30%. But, hey, sometimes that's all you need to get you through the day.
Design: Dubleup
Photography courtesy of Dubleup