My husband wakes up every morning at 5:30 A.M! The alarm goes off in the bedroom and unfortunately I end up waking up as well. I was so glad to discover a creative solution that can change this predicament. The design team at iLuv, a boutique mobile accessories company based in New-York, invented an ingenious solution called the SmartShaker.
The SmartShaker is a small alarm that you place under your pillow and it wakes you up via vibrations! It connects wirelessly to your smartphone and using an application you can control all of its features. So if you live with roommates, have a hearing impairment or a partner that wakes you up, the SmartShaker is a great solution.
The SmarketShaker has three main modes of operation. You can choose to put it on vibration only, sound only or both. A strategically placed snooze button lets you postpone the inevitable wake-up…
The SmartShaker uses Bluetooth technology and you can set it up even if your phone is 30 feet away. Its application enables you to schedule up to 10 alarms and customize them. It also lets you view the battery life of the system and will even tell you the local weather forecast.
The SmartShaker has a small round shape and its dimensions are width: 75mm x height 14mm. It comes in five elegant colors- white, lime green, pink, light blue and black. It also has a rechargeable battery that only needs to be recharged once a month.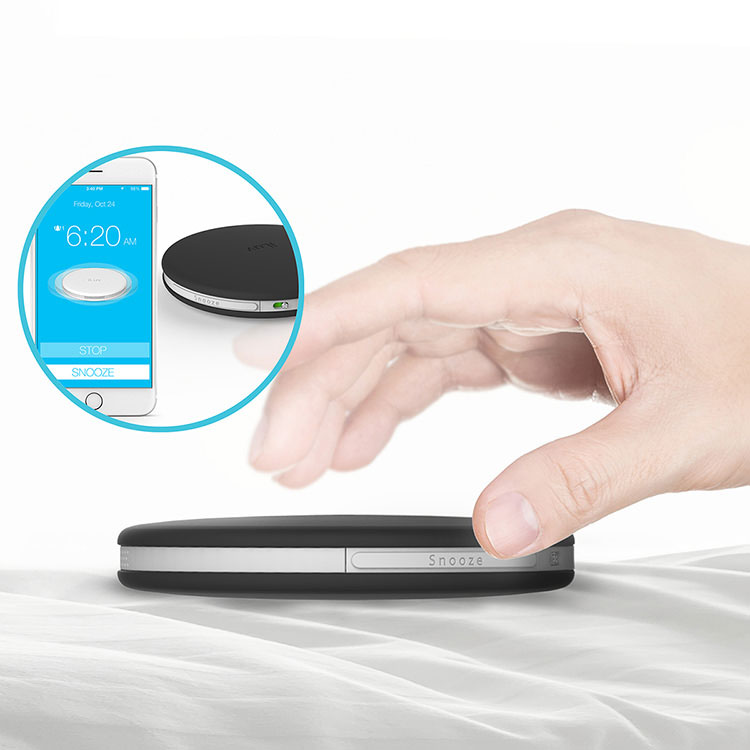 Design: iLuv
Photography courtesy of iLuv
Buy This Item