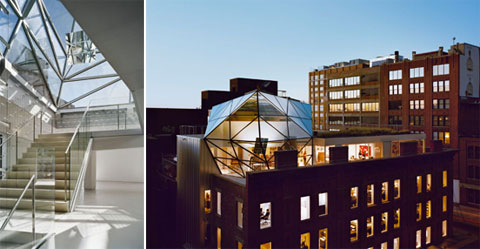 The new headquarters and studio of fashion designer, Diane von Furstenberg was designed by Work Architecture. Located in New York City's Meatpacking district, this architecture project includes the company's New York store, a 5,000 SF showroom, design and administrative offices and an executive suite.
This project unique design concept is based on a shaft of light stairway that collects and distributes light from the roof through to the deepest interior parts of the building. Glass Swarovski crystals are strung between the guardrail vertical cables, spreading natural light across the ceiling of each floor.

Located on the roof of the building are the faceted conference room and design studio – a distinct, identifiable beacon to one of New York's hip neighborhoods.