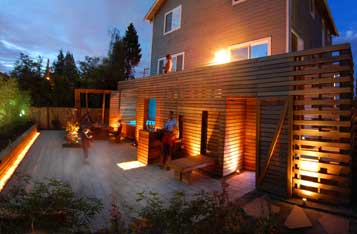 Located in Seattle, WA is the innovative vertical patio designed by PIQUE Architecture. This back yard patio provided the opportunity for a simple and contained architectural design.
While maintaining as much open area as possible, this unique patio design includes different spaces for a wide variety of needs; a grill patio, hot tub, changing room, dining table, bar, stool, reading area, and security gates.

What i love about this patio design is the idea of enclosing the various patio needs within a vertical wall and letting them come to life by a series of hinges and pivots, so the occupants could control and transform their environment as they wish.