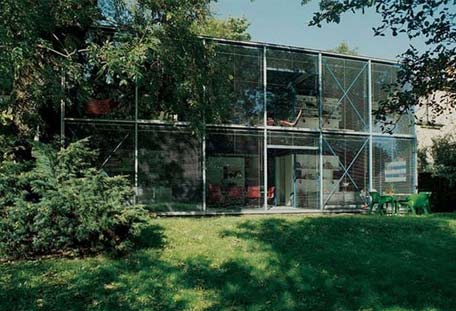 I was quite surprised by the industrial look and feel of the Hopkins House. Located in a London conservation area, this is actually Hopkins Architects practice's founding partners own house.
Defined by building restriction lines, a small-scale structural steel grid of 2 x 4 meters embedded with metal decking for both the floor and roof, was chosen for this two-story, modern house.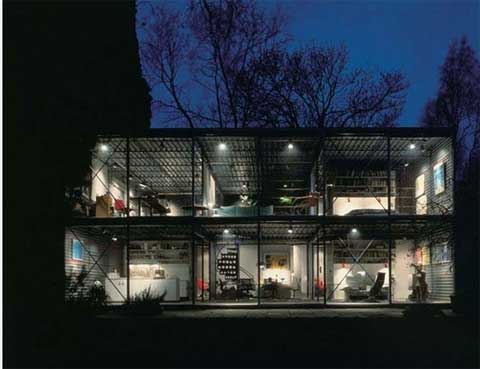 side walls are of an insulated metal decking sandwich and front and back walls have full-height sliding glass doors, with no vertical frames.

The site is 2.5 meters below the road, so the main entrance is at first-floor level across a footbridge, spanning a slope down to the garden level.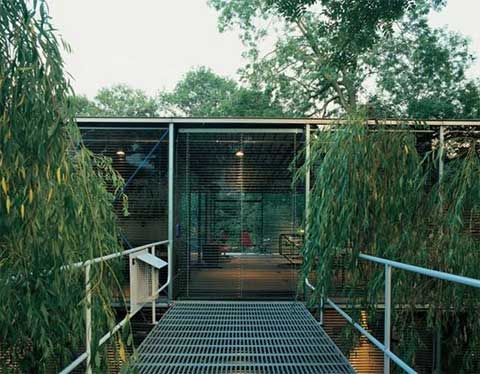 The two levels of the house are connected by an open spiral staircase, while the interior open plan spaces are defined by hanging Venetian blinds and prefabricated melamine partitions for the bedrooms and shower rooms.
As much as I loved the simple, open plan layout of the Hopkins House and the openness to its surroundings from every room, I feel that the dominance of the metal feature gives the house a cold feel to it…maybe I'm missing some natural elements, like wood or bamboo.