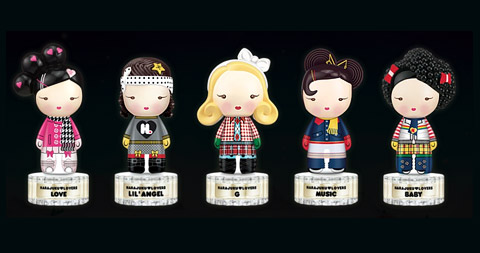 All the girls stomp your feet like this and check out this awesome gift set from Gwen Stefani's Harajuku Lovers Snow Bunnies. If you're all about self expression and have a unique individual style, then this collection of Eau de Toilette, doll shaped fragrance bottle set is for you …Oh and it smells amazing, too!
With their cutting-edge winter fashions and irresistible scents, the Harajuku Lovers have their own limited edition perfume set. The set contains 5 x 0.33 oz / 10 mL bottles. Each cap is designed to represent each girls personality with a cute doll cap cover sitting on her own glass pedestal.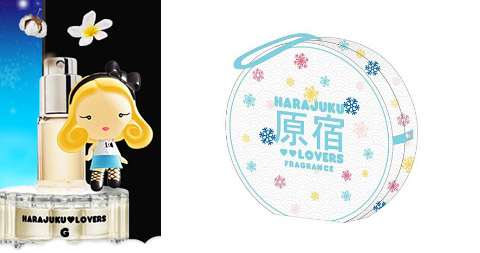 As we all know, G is the leader of the pack; her fragrance is a modern gourmand with fresh coconut and crisp mandarin …Delicious.
Love is super cute and frilly; her fragrance is a sensuous floral with bamboo leaf mist and creamy vanilla orchid …Romantic.
Lil' Angel is sassy and sexy; her fragrance is a fruity floral with raspberry and pear blossom …Tasty.
Music is tough with an attitude; her fragrance is a delicate floral with honeysuckle and sparkling pear …Yummy.
Baby is girlie and sweet; her fragrance is a powdery musk with white rose and Jasmin petals … Fresh, Ooh La La!
Bring in the cold with this perfect holiday gift this season.
Buy This Item