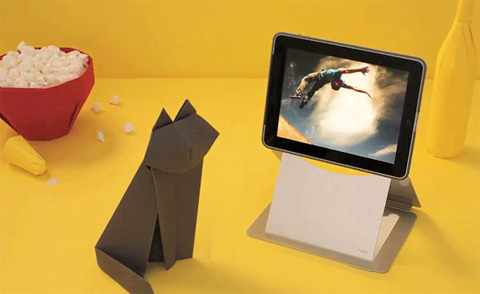 When you see the performance of the Ori for iPad all you'd be able to say is Wow! This is a product you don't see everyday. Inspired by the Japanese art of folding – Origami, this iPad case and stand folds its way from a simple case to a versatile, multi-position stand for iPad. Whether you're watching a movie on the train, flipping through a portfolio presentation, looking for your favorite recipe in the kitchen or typing an email at your favorite coffee shop, you can position your iPad at the most comfortable height and viewing angle for you.
iPad stands are quite common nowadays. They are all over, offering us comfort and easy access to this addictive gadget. It takes a whole lot to stand out from all the others and deliver a stand that literally does everything. The Ori iPad case & stand is exactly that – this is a revolutionary product.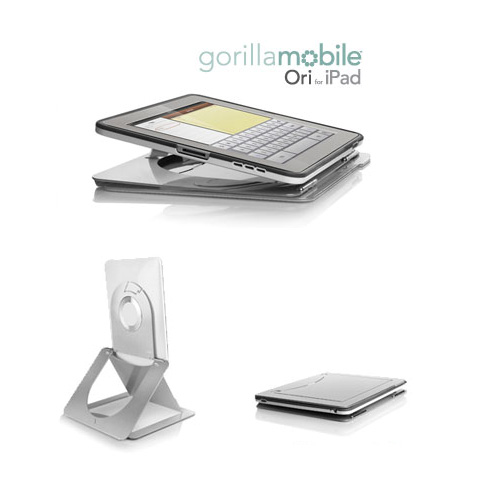 Made of a special aluminum composite, the Ori stand provides a solid stability with a lightweight form. Measures: 1.2 x 10.9 x 8.5 inches ; 1.3 pounds – light as a feather. From a sleek folio case with microfiber cover – folds closed to protect the iPad screen on-the-go, to an adaptable display height for optimal ergonomics and continuous hinge for adjustable viewing angle. It simply has it all. Twist, turn, flip – total comfort, minimal weight, ultimate design.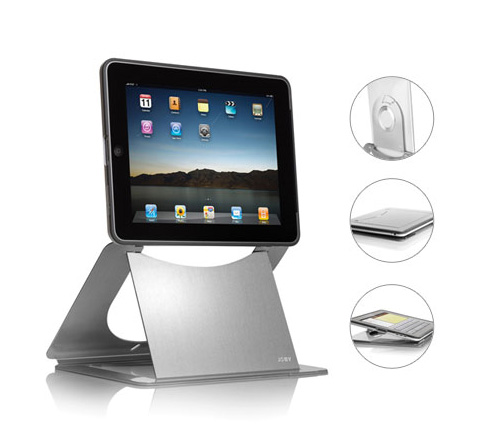 Buy This Item