Here is another lovely building, nestled in the back corner of a residential garden in Urbana, Illinois. It's a small hut that serves as a beautiful meditation space surrounded by a mature sprawling landscape.
White cedar shingles wrap the entire exterior surface, hence the name 'Le Cadeau' or gift wrapped. For me, this structure depicts a fairytale; whether by its simple form, its material, or its wonderful natural surroundings, as it shies away from view among tall trees, shrubs and flowers. It's as if this house has a story to tell…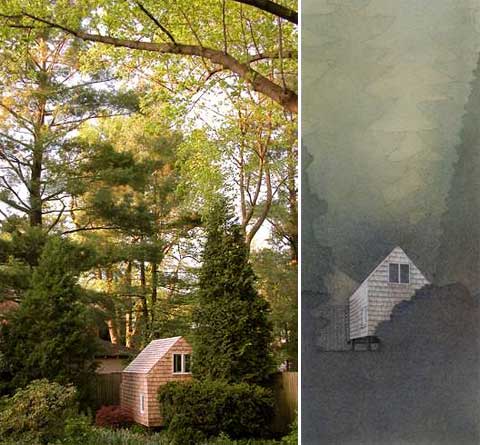 All the shingles were hand cut, layered and detailed to create a typical house shape, almost like when a child draws a house. Shingles were left to weather to silver gray. This space was awarded the AIA Small Project Design Award.