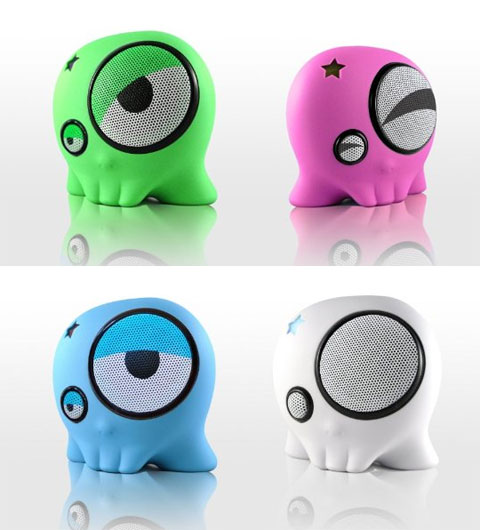 The SkullyBoom Portable Speaker is a new level of combining sound and design. This is the real deal as it combines a very high level of technology with a unique design affected by modern art, and aimed at transient lifestyles of surf, skate, and snow culture.
It has rechargeable Lithium-Ion battery, that provides 4-6 hours of playtime per charge, high fidelity speakers and it suits any audio device – you can plug in to your iPod, iPhone, MP3 player, laptop, or home computer via the standard headphone jack. This is a rock-star speaker that plays music loud and strong – in other words – the Boombox is back!
This cool speaker design reminds of a small squid; it has a tweeter and a 3W speaker for eyes, and a 3-color LED indicator shaped as a star on its forehead. At the back you will find a mini USB port, a 1/8" audio jack and a super mega hip clip, that allows you attach it to your belt or even your bike if you're out for a ride. It also comes in cool colors, so you can pick your flavor: DIY White, Buggin' Purple, Dr.X Black, Meany Greenie, Laz-E Blue, Squinty Pink.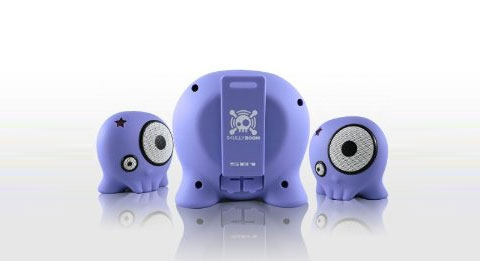 This product may not replace high end soundbar speakers, but it sure does look cool. The SkullyBoom is the kind of product that depicts modern design, delivering not only a unique and special appearance but also high technical level that will blast your mind. This portable speaker could be misleading for not being strong enough, but don't give in to this thought, this is a winner speaker that will rock you up in ways you can't believe.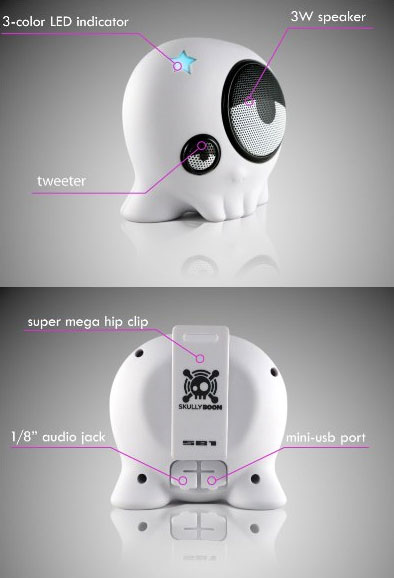 Buy This Item