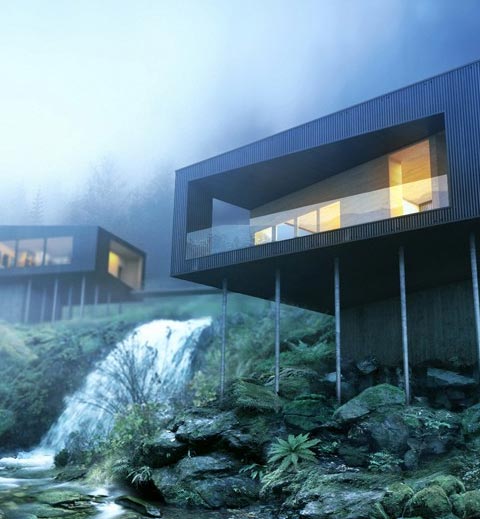 Salt Spring is one of the Gulf Islands nestled between mainland British Columbia, Canada and Vancouver Island. after seeing these pictures, I feel this is one of the most beautiful places to live in. Designed by architect Todd Saunders, this project consists of a 120 sq. meter house and a studio. The small buildings sit on a huge plot of land in Salt Spring Island's Mount Thom.
The site is truly picturesque; the buildings are set within a fir forest, with a seasonal creek with a 6 meter high waterfall in the middle. The box-like structure is supported by a large base on one side and poles on the other. They seem almost like two modular spaceships have landed in this lush, isolated forest.
And if that doesn't make your eyes pop out, then I'm sure these amazing views will – all the way from the greater Vancouver Island towards US's Washington State.