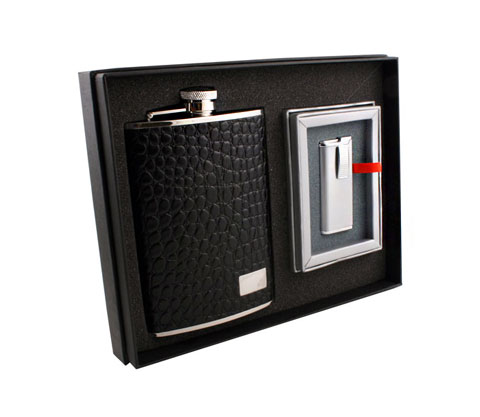 Whether we agree on it or not, smoking and drinking is part of our modern lives, so we might as well do it with elegance and style. This gorgeous leather flask and lighter gift set will make sure you look your best when you're "Oh so bad".
The beautiful Beau Monde flask holds eight ounces of your favorite drink in its leather covered, stainless steel body. The satin silver lighter will amaze you with its torch flame, lit by a single action ignition. Both items can also be engraved so be sure to create a completely personalized gift when you order it. One word – Classy.
Do you know the saying – if you're going to do something bad, you might as well do it right? Well, this is exactly the case – if you're going to smoke and drink you better do it right. And what can be more of a statement than this beautiful set.
With a 18/8 grade premium quality stainless steel flask (5.30″ high x 3.80″ wide x 0.90″ thick) you would look sharp wherever you take it or to whomever you give it to. Heck, if we're being bad we might as well do it with good old fashioned style.
Buy This Item