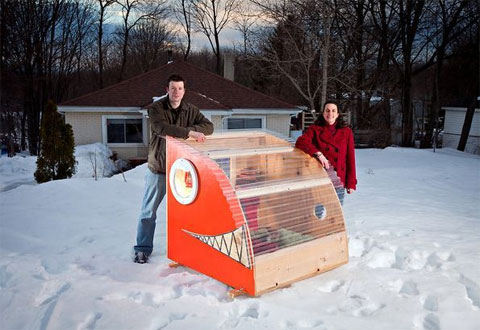 Remember we told you about Derek Diedricksen, aka Deek – the mad scientist with too much lumber on his hands? Well, here's another one of his tiny creations of a home. It's called the GottaGiddaWay Micro-Hut Cabin, and it's indeed a one-of-a-kind, micro prototype of a homeless shelter.
This small cabin is lightweight, affordable and takes almost no skills to build. It looks like an orange, fish head looking shelter, that sits on a wooden platform, covered with a transparent corrugated poly-roofing which can be folded for extra ventilation.
Inside, there's enough room to stretch out your legs when napping, some shelves for books and a lantern. It also has some cool features like the front loading washing machine window, decorative stained glass window, and of course, a small birdhouse spot, you know… for company.