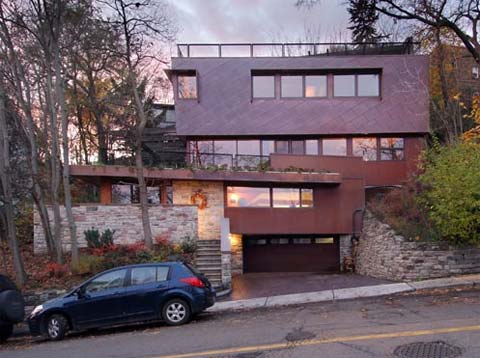 This contemporary piece of architecture was conceived as an ecological family home. Constructed on an overgrown infill site in Toronto's vibrant Bloor West Village neighborhood, the Ellis Park House is earth sheltered into a sloped hillside with exceptional green features and fantastic views.
Despite of the challenging site features, the architects managed to design a house that matches beautifully to the urban context, serves the contemporary lifestyles of its occupants, while minimizing their environmental impact. What else can you wish for…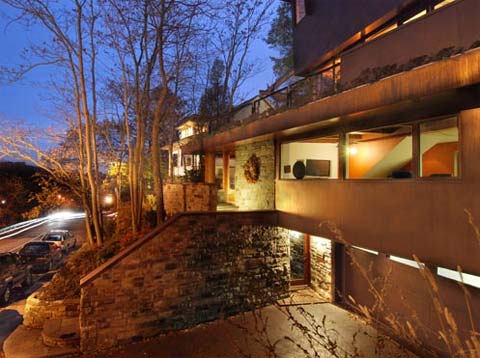 The positioning of the house provides good solar orientation and spectacular vistas over Toronto's High Park; I love the roof deck, on the third floor, and the green roof atop the house with its overgrown greenery and tree top views.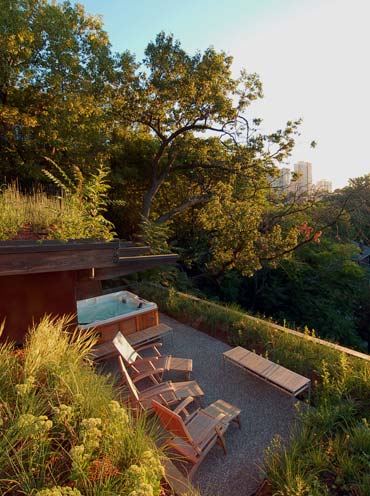 Inside, the design is bright and modern, featuring open spaces combined with sustainable materials such as cork, reclaimed stone, birch and marine plywood, clay brick, copper and Douglas fir.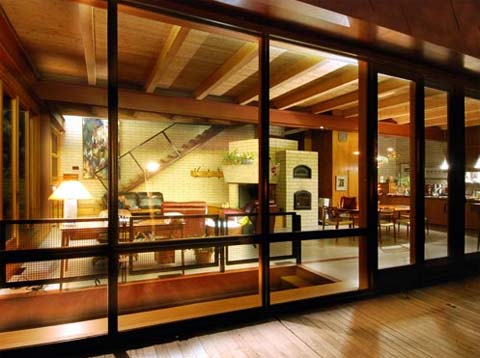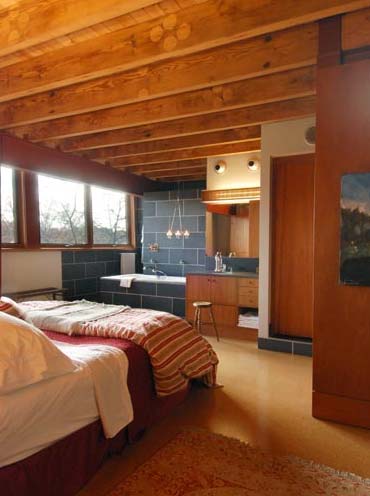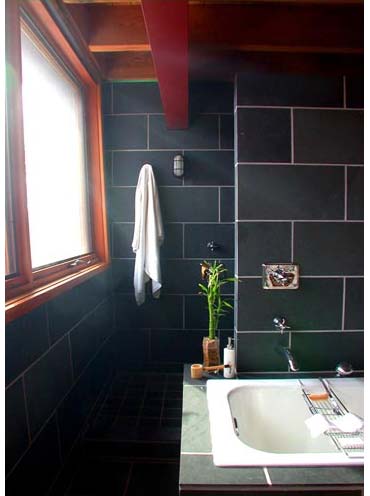 I was particularly interested in the construction of this home; this is how the architects describe the process and the various sustainable features:
Surgically cutting a three and a half story retaining wall into the hillside provided the ability to essentially build a house in the hole with a shell comprised of insulated concrete forms (ICF), structural insulated panels (SIPS), a structural steel frame and heavy timber beams many of which were reclaimed from a World War II era aircraft hanger at CFB Ottawa or salvaged from the Ottawa River.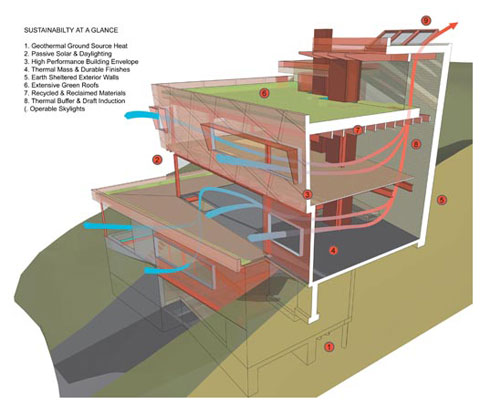 Before the basement slab was poured a geothermal loop was installed under the house which would later be connected to the homes sophisticated hydronic heating, cooling and domestic hot water systems. Multiple thermostatically controlled zones, in-floor heating, dual air-handlers, heat-recovery ventilator with intake filtration, humidity control and outdoor sensors provide optimum comfort during the short heating season and virtually non-existent air conditioning season. Typically the geothermal system is in operation less than six months a year.
Year round the home benefits greatly from its tight envelope and high insulation values. Passive solar gain and optimal shading derived from correct solar geometry and orient-specific high-performance glazing temper the indoor temperatures. Supplemental heating is provided by a traditional clean burning contra-flow masonry stove (Finnish stove) which is fueled with construction waste and trees felled within Toronto. Thermo-siphon night-time venting of the homes extensive thermal mass has proven to provide natural air conditioning through the majority of the summer.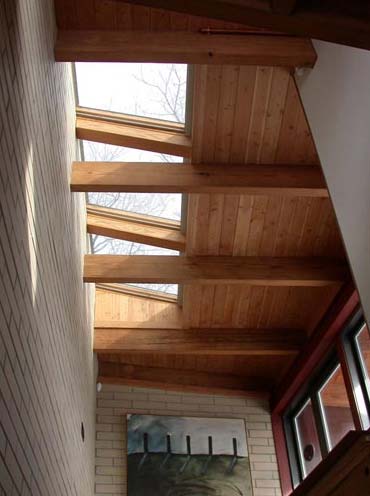 The total space of this house is huge – 4,300 sq. ft. to be exact. Personally, I'm not too fond of Mega Mansions, however I do like this particular house and I think that through smart design and construction, the architects successfully proved that you dont need to compromise on comfort, luxury or style in order to enjoy a sustainable home with a reduced ecological footprint.