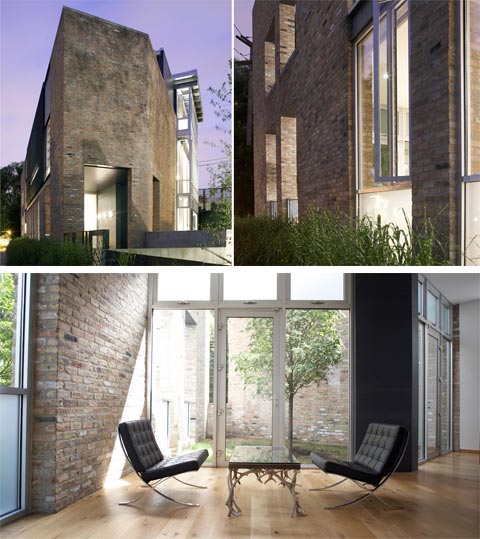 A former Chicago warehouse from the 1920's has been completely renovated to create a modern, 3-story high family home. The original mercantile building has been opened up with expansive windows, that bring loads of natural light into the space, a private yard and roof terrace – all contributing to the contemporary indoor/outdoor way of living.
Located in the Chicago neighborhood of Bucktown, the converted building features a triangular footprint, with heavy timber framing and brick cladding at the exterior. I love the triangular shaped atrium or light court that runs through the building, and the industrial Arclinea kitchen is to die for.
Sliding doors open up the spacious kitchen onto an outdoor dining area with a grill spot, and a traditional wood-burning sauna from Castor, called Sauna Box, built into a Corten steel shipping container, and completed with an iPod stereo and a guitar hook-up.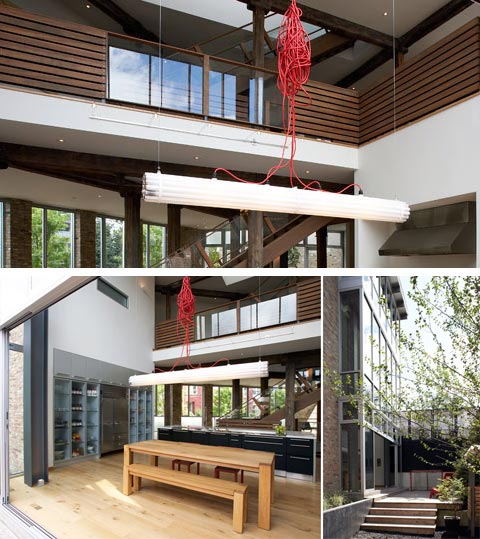 Every room is carefully detailed with just the right kind of accessories; from the storage cabinets and modern Recycled Tube Lights in the kitchen to the master bedroom bath tub, and the kids shower room that's just oozing with character.