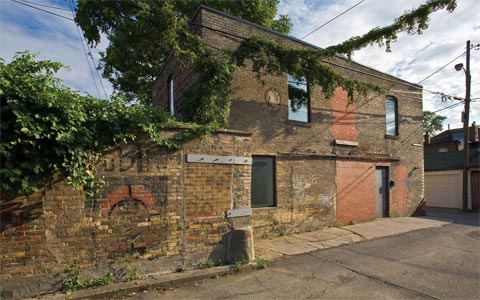 Take a look at this beautiful renovation project of a 1912 dairy building converted into a 2,200 sq. ft. modern home. I love how the old stonework exterior has been preserved, cleverly disguising a contemporary light filled interior. Keep on reading to see what lies inside…
For me, one of the most interesting features of this project is the elegant indoor-outdoor design. The living room opens up onto a charming walled garden via three large panes of glass; this outdoor gem has been created by removing the roof of an auxiliary room.
An Ipe wood deck folds to create a bench on one side, while on the other side it becomes steps extending inside the house. The smart use of stone completes this design, from the side walls of the garden to either side of the steps. Such a beautiful solution for blending inside and outside spaces.