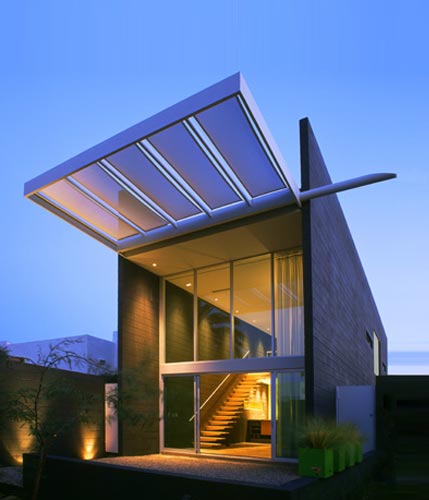 Located in Tucson, Arizona, this 1,500 sq. ft. home was built for a single man in his mid 30's. Being a married woman of 25, I'm not a big specialist in bachelor pads, but this is what I would call 'The ultimate bachelor pad'.
It's got everything a modern young man would dream of: extravagant minimalism, dark wall surfaces, classic pieces of furniture – all wrapped up in a post-modernistic spirit of interior design.
The body of the house is limited by two walls oriented accordingly to the East and West, so that the house opens up into the South-North direction. The southern facade is made of glass and exhibits the interior, or rather connects the interior with the southern yard, which is surrounded by the dark-cladded wall and seems to defend the private space of the master.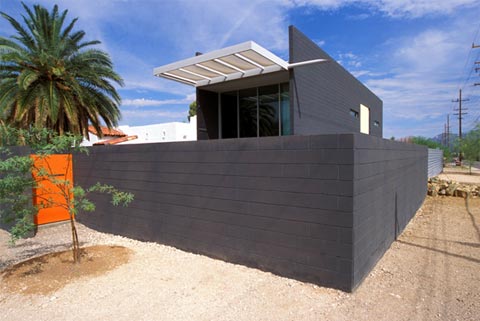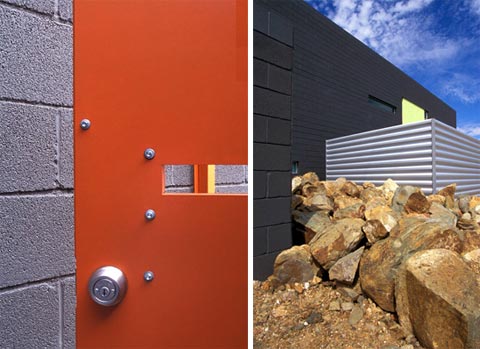 Yet, the beautiful strictness of the geometry and the architectural simplicity of the lines of this contemporary house will not only appeal to the young bachelor. If you consider yourself as a young modern person you will definitely like this house.
You will also appreciate the house if you stand up for ecologically orientated projects. The 'green' aspect of the project is its rain water usage. The rain water which falls onto the roof is collected into a 1000 gallon storage tank and is used afterwards for watering the garden. Thanks to its orientation and planning, the house is also passive solar. The canopy at the southern facade is used to protect inner spaces from the active sun light of the Arizona desert.